Roush Review: Lady Mary's Bad 'Behavior', a Heroic 'Shooter', 'Sweet/Vicious' Campus Vigilantes
Lady Mary, how could you?
That would be a natural response from Downton Abbey devotees, who might well be shocked to see the chic, Emmy-nominated Michelle Dockery gleefully plunging into a Southern Gothic underworld of sex, drugs, booze and larceny, sporting wigs to rival The Americans' Keri Russell. Obviously, calling this series Good Behavior (based on a series of novellas by Blake Crouch) is meant to be ironic.
It's easy to see why the role of flamboyantly self-destructive grifter Letty Raines would appeal to an actress yearning to play against starched period stereotype. Listening to self-affirmation tapes with seemingly deaf ears between heists, she's an emotional wreck even before her path crosses that of Argentine hottie hit man Javier (a smoldering Juan Diego Botto). Yearning to be reunited with the son now being raised by her unsympathetic mother (Lusia Strus), Letty would like to go straight, at the urging of her sympathetic parole office (Terry Kinney, reliably terrific), but the first few episodes so glorify bad behavior you sense that won't happen soon if ever.
Deception is foreplay as Letty keeps trying to escape Javier's fatalistic spell, only to have him pull her back in—often to bed. Their playfully perverse, masochistic 50 Shades of Huh? relationship makes for a ludicrous but enjoyably steamy and sordid noir thriller, TNT's latest overwrought walk on the dark and wild side. For the record, the misbehaving Dockery seems to be having the time of her life. Whether the viewer can suspend disbelief long enough to enjoy the ride remains to be seen.
THE NEW FUGITIVE: Will there ever be an appropriate time to put a show called Shooter on the air? USA yanked this adaptation of the 2007 Mark Wahlberg thriller from its original premiere date last summer out of sensitivity to the wave of shootings, including the Orlando massacre, that rocked the nation. I'm not sure the mood is any less volatile these days, and the fetishistic opening sequence does little to sooth one's nerves. "A bullet will kill you three ways," we're informed in voice-over by Shooter's embattled hero, ex-Marine sniper Bob Lee Swagger (Ryan Phillippe assuming the Wahlberg role), as the various methods are demonstrated, including the instantly fatal "kill shot," in which "you're dead before your brain can process what happened."
"Guns change everything," Swagger declares. "And a bullet is forever." (Personally, I prefer diamonds.)
RELATED: Shooter: Ryan Phillippe is Fired Up to Play a Former Marine Sniper in USA's New Thriller
Much like in the movie, Swagger—now a loving husband and father—is jolted out of retirement by a military brother-in-arms (Omar Epps as Secret Service agent Isaac Johnson) who enlists him to help avert a presidential assassination. In reality, he's being framed for the crime in an almost comically convoluted and ham-fisted international conspiracy, making him prime suspect in an FBI manhunt. Only maverick agent Nadine Memphis (Arrow's Cynthia Addai-Robinson, in a gender reversal of the movie's Michael Pena role) seems to wonder if Swagger could be innocent.
And so a Fugitive chase and revenge thriller gets underway, playing out over 10 efficiently exciting if unremarkable episodes. Phillippe is a methodical action hero, but could use a bit more, what's the word, swagger in his sullen emoting. He always looks to me like someone who's nursing a sore tooth. Still, Shooter is the sort of straight-up storytelling USA is best known for (before falling down the Mr. Robot and Falling Water rabbit holes), albeit almost completely devoid of humor. As I cued up each episode, I couldn't help wishing that USA would have gone back to the title of the Stephen Hunter page-turner that served as source material: Point of Impact.
MAJORING IN PAYBACK: The night's most audacious new show—and no, I don't know why so many series are premiering simultaneously in the middle of November—is also its messiest. MTV's Sweet/Vicious opens on a scene of vigilante violence as a masked intruder, dressed as a cat burglar, assaults and savagely wounds a college-age rapist in his room, following up one vicious salvo by taunting in a disembodied voice: "I thought 'no' means 'yes.'" Revealing the ninja warrior to be a young woman tells you this show has very ballsy ambitions.
Flash-forward a month to the bohemian digs of green-haired trust-fund stoner undergrad Ophelia (Taylor Dearden, a ringer for Parenthood's Mae Whitman), who when fleeing one night from a university cop stumbles across the mysterious Avenger-in-Black in action—and eventually discovers her identity as socially awkward sorority sister Jules (Eliza Bennett). A more unlikely pair of campus crime-fighters would be hard to imagine, and while the funky blend of action and comedy is erratic at best, there's a vibe of free-falling danger to their reckless exploits. I wasn't entirely sold until they started belting Wicked's "Defying Gravity" with abandon while driving with forbidden cargo in their trunk. Can a Hamilton duet be far behind?
Good Behavior, Series premiere, Tuesday, Nov. 15, 9/8c, TNT
Shooter, Series premiere, Tuesday, Nov. 15, 10/9c, USA
Sweet/Vicious, Series Premiere, Tuesday, Nov. 15, 10/9c, MTV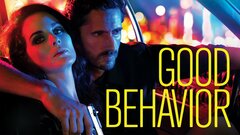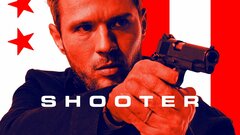 Shooter
where to stream