'Legends of Tomorrow': Lance Henriksen Comes Out of the Shadows (VIDEO)
DC's Legends of Tomorrow continues its streak of being wildly entertaining this season with more action from the Justice Society of America.
"We go to the '80s, which is really fun," says Maisie Richardson-Sellers, whose Vixen gets some backstory attention in the episode. "And we meet an old member of the JSA, who has now, obviously, grown up a little bit."
RELATED: Legends of Tomorrow's Brandon Routh on Being a Hero Without Atom's Suit
That JSA member she speaks of is Obsidian—the shadow-controlling masked specter we've seen in past episodes—now an aged and angry version played by sci-fi favorite Lance Henriksen (Aliens, Millennium, Pumpkinhead). In this exclusive clip from this week's episode, "Compromised," Vixen and Nate (Nick Zano) come face-to-face with Obsidian while raiding the files at the abandoned JSA headquarters and from the looks of it, the fella—real name: Todd Rice—is not happy with whatever Vixen and her supercronies pulled years back.
Oh, and for those in the know, yes, Todd Rice is the son of Alan Scott's Green Lantern from the comic books.  So there's that added dose of geek awesomeness to enjoy, as well! —Additional reporting by Marisa Roffman
DC's Legends of Tomorrow, Thursdays, 8/7c, The CW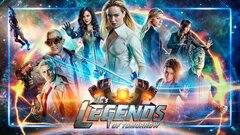 Powered by