'Designated Survivor': An Attack on The White House (VIDEO)
As President Kirkman (Kiefer Sutherland) has been settling into his highly unexpected term as the commander-in-chief on the ABC hit drama Designated Survivor, unrest is still swirling around him and the country. Case in point: if terrorists were able to blow up the Capitol, how safe is The White House?
RELATED: ABC Orders Full Seasons of Speechless and Designated Survivor
We find that out in the exclusive clip below. Kirkman is making a speech to the nations' governors about unity and coming together when all of a sudden shots ring out and everybody runs for cover:
The shots are going to interrupt Kirkman's attempt at getting a new Congress elected. Remember, the entire House and Senate were in the Capitol when it blew up so… yeah, there's a lot for Kirkman to do, and being shot at isn't helping matters.
Designated Survivor, Wednesdays, 10/9c, ABC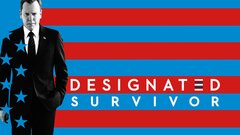 Powered by