'MacGyver': Lucas Till and George Eads on Their Brotherly Bond
What do you get when you put two Southerners who like to have a good time in front of the camera? CBS found the answer when casting MacGyver, this fall's hot reboot of the iconic 1985–92 series that made Richard Dean Anderson a star (and gave the world a new verb for "creative tinkering").
Lucas Till plays brainy superspy Angus MacGyver alongside George Eads, who has Mac's back as Jack Dalton, his gun-toting security at the world-saving Phoenix Foundation. Their routes to the show—one of this season's biggest hits—may have been drastically different: The 26-year-old Till was a child actor (Hannah Montana) who went on to play Havok in various X-Men films, while Eads, 49, did a batch of TV movies and busted pilots before a breakout 15-year run as crime-scene investigator Nick Stokes on CSI. Nonetheless, they say they are kindred spirits.
RELATED: CBS Grants Full Season Renewals To Bull, Kevin Can Wait and MacGyver
Congrats on MacGyver's full-season order. Lucas, did you feel any hesitancy about stepping into Richard Dean Anderson's oversize shoes?
Till: I didn't allow myself to think about it. But I absolutely take into consideration everything that people want from MacGyver. He's a cool dude. So I grab the football and I run with it and I try to take a little bit of RDA and a little bit of me and see where they meet up.
Eads: You always feel pressure when you do a pilot. Nobody is harder on myself than me—and we're hard on each other. We ask for more takes to be sure our scenes are awesome. We're trying to make it real, and I think that jumps off the screen.
Were you fans of the original? Of course, Lucas wasn't even born when it premiered.
Eads: Not really. [Laughs] When the show was on, I was busy chasing girls. I know it's a crown jewel, though. And we're trying to pay tribute to it. RDA was a legend, and I wish we had his blessing. Man, he should jump on board; this is a good show. [Editor's note: Anderson has publicly said he does not want to be involved, out of loyalty to fans of the original series.]
Till: I should reach out to him, but I've been a little afraid of what he'd have to say. But I definitely knew about the show because my dad loved it so much his nickname was MacGyver! He would take over my school projects and start MacGyvering them. He calls me almost every other day with some advice on something I should MacGyver.
Any good ideas?
Till: He created something that's like a Frankenstein landing helmet for jumping out of planes.
Eads: The only thing I MacGyvered growing up was attaching playing cards with a bobby pin to my bike so it sounded like a motorcycle.
Speaking of the original, some fans were skeptical of the new series and even complained that Lucas was too young to play the resourceful MacGyver. Did that surprise you?
Eads: Some people weren't going to give us a chance from the start because they didn't like the idea of rebooting one of their favorite shows.
Till: I do think we've already got people tuning in who never watched the original, and they love the show. On the other side, my grandma and her friends all say they love it. [Laughs]
RELATED: MacGyver: Behind the Scenes on CBS's Remake of the '80s Classic
What's coming up on the show?
Till: [In the November 11 episode, MacGyver's boss] Thornton [Sandrine Holt] orders him into a secure room to keep him safe from a dangerous opponent. While he figures out how to break out, his roommate Bozer [Justin Hires] is being held hostage by an international assassin known as S-218. There's a really cool reveal of a character from the original series in the episode.
Mac is dating again after his ex-girlfriend Nikki Carpenter (Tracy Spiridakos) betrayed him and the country. But we hear that Nikki will be back in this episode. True?
Till: Yes. I won't tell you in what way. Mac's still pretty torn up about Nikki. He needs closure and, oh, he'll get it!
Will anyone else be sparking Mac's romantic interest this season?
Till: On the old show, there was a new girl pretty much every week. Our executive producer Peter Lenkov wants that to happen here too, and so do I, but Nikki is going to be around as a bad guy for at least the first season.
Will Jack have better luck with women than CSI's Nick had for 15 years?
Eads: [Laughs] Not likely. Jack's bad luck with women could be a running story. He's kind of a cactus—very prickly—so it makes sense.
What do you like best about your roles?
Eads: I get to be an action hero! In CSI, I started getting tired of doing the same stuff over and over. This is an opportunity to keep things changing, be in a different country, fight different bad guys and always being in peril. It's never just confined to the lab. This morning, we got in at 6am to do a gun battle in a living room. It's a lot of fun.
Till: I couldn't imagine hiring someone for the show who didn't enjoy problem-solving, because even though there are prop people who create the MacGyver moments, I still have to do them and figure out how to make them look good on screen. I thoroughly enjoy it. And I never get too bored. If Mac is talking a lot, we start a fight scene, and then we start MacGyvering things.
RELATED: MacGyver Tries to Disarm a Soviet Nuke (PHOTOS)
You guys work really closely together. Tell us something fun about each other.
Eads: Lucas is crazy. I'm crazy. And we both aren't in the business to get famous. We're here because we love the work. That's our common denominator. I will tell you that when Lucas gets frustrated on the set, he goes off and he plays his handheld video game.
Till: I've likened George to Hidalgo [the strong-willed champion mustang owned by distance rider Frank Hopkins in the 2004 movie of the same name]. Try to tell him what to do, and he'll do the exact opposite. Well, actually, we are both that way. He also loves to make up stuff to add to the script!
Eads: We've just gotten lucky about working with somebody we really enjoy being around even away from the camera. I think our friendship is bleeding over into the characters now, and that's starting to come across the screen.
MacGyver, Fridays, 8/7c, CBS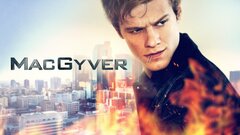 Powered by