What's Worth Watching: 'Quarry', 'Good Girls Revolt', 'Tracy Ullman's Show', 'The Walking Dead', 'Elementary' and more for Friday, Oct. 28 thru Sunday, Oct. 30
Quarry (Friday, 10/9c, Cinemax): In a harrowing and enigmatic season finale, tautly directed by Greg Yaitanes, brooding war-vet Mac (Logan Marshall-Green) relives the trauma of Vietnam in graphic flashbacks—no wonder he's suffering from PTSD (undiagnosed in the early 1970s)—while taking steps to quit his association with The Broker (Peter Mullan). The episode expands to 100 minutes, and it still leaves you wanting more.
Good Girls Revolt (Streaming Friday on Amazon): Here's a great story well worth telling, and worth telling better. An enjoyable but slight Mad Men lite set in a Newsweek-like late-'60s newsroom, the 10-episode first season of Revolt exposes an archaic system where hard-working "girls" toil in "The Pit" as researchers, doing the heavy lifting for a chauvinistic all-male staff of reporters who get all the credit. This is the very slow-burning story of their professional and often sexual awakening, bathed in period clichés that rarely feel authentic: "I want to tiptoe through the tulips," blurts progressive ringleader Patti (a fine Genevieve Angleson). The cast looks the part, including a terrific Anna Camp and Erin Darke as Patti's compatriots in raised consciousness. And to its credit, there's more diversity on display than in Mad Men's early days, even before the ladies are roused to collective action by activist Eleanor Holmes Norton (Parenthood's Joy Bryant). Too bad Chris Diamontopoulos is such a wan Draper of an editor, pompously preaching social awareness without acknowledging the sexist segregation under his nose. In the pilot episode, Grace Gummer strikingly appears as Nora Ephron, who takes one look at this place and splits. I couldn't blame her.
Bill Murray: The Kennedy Center Mark Twain Prize (Friday, 9/8c, PBS, check local listings at pbs.org): Taped last Sunday, this annual award to a legend of American humor brought out some big names to Washington, D.C.'s Kennedy Center to salute Murray, including the now-famously bearded David Letterman (on whose show Murray was a frequent guest), original Saturday Night Live trouper Jane Curtin and Ghostbusters co-star Sigourney Weaver.
Tracey Ullman's Show (Friday, 11/10c, HBO): The chameleon comedian returns to HBO for a six-episode late-night run, where her talent for satirical impersonation runs the gamut from German Chancellor Angela Merkel to some great British Dames: Judi Dench and Maggie Smith, whose latest auditions are a far cry from Downton Abbey.
Years of Living Dangerously (Sunday, Oct. 30, National Geographic Channel): The issue of climate change was ignored during the presidential debates, but not in this documentary series, returning for a second season of celebrity-driven reports from around the embattled planet. First up: David Letterman heads to India to investigate how the booming population is handling energy concerns, which is anything but a laughing matter to hundreds of millions of citizens.
The Walking Dead (Sunday, 9/8c, AMC): Maybe there is hope after the soul-crushing antics of Negan (Jeffrey Dean Morgan). The focus shifts this week to a new and less threatening community headed by Ezekiel (Khary Payton), and while it all seems "too good to be true" (AMC's description), we've learned to know better. Comics readers probably know what's coming, but those of us who only know the TV show beg the others to stop with the spoilers.
Elementary (Sunday, 10/9c, CBS): Time for Holmes (Jonny Lee Miller) and Watson (Lucy Liu) to take a special bow, as the modern-day Sherlock crime drama marks its 100th episode. But Capt. Gregson (Aidan Quinn) still must lobby city leaders to include the duo when his unit is singled out for commendation. Haven't they been watching?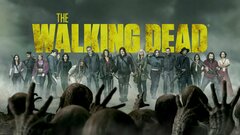 Powered by