Which 'Bachelor in Paradise' Couples Are Still Together?
If you can already hear the waves crashing against the shore, the ice cubes clinking in Wells Adams' cocktails, and the gentle sobs of heartbroken reality TV stars, you know that Bachelor in Paradise is finally back. The Bachelor spinoff is premiering in the fall for the first time in its eight-year history — kicking off on ABC on Tuesday, September 27, at 8/7c, to be specific — with its largest-ever cast of romantic hopefuls.
Before last season, only six Paradise pairs had withstood the test of time. Luckily, the seventh-season cast has doubled that tally of success stories.
Scroll down for updates on the couples still standing…
Jade Roper & Tanner Tolbert (Season 2)
View this post on Instagram

Bachelor in Paradise's longest-lasting relationship belongs to Roper and Tolbert, who said "I do" in January 2016 and have since welcomed three little ones: daughter Emerson and sons Brooks and Reed.
Ashley Iaconetti & Jared Haibon (Seasons 2 and 3)
View this post on Instagram

Iaconetti and Haibon met in Season 2, and after three years (and relationships with other people), they got engaged in June 2018. The happy couple got married in August 2019, and they welcomed son Dawson this January.
Raven Gates & Adam Gottschalk (Season 4)
View this post on Instagram

This happy duo tied the knot in April 2021, and they too became parents in January of this year, adding son Gates Zev to the mix. "So many of you told me, 'Seeing your child for the first time, it's a feeling you can't explain,'" the proud mom wrote on Instagram shortly thereafter. "You all were so right!"
Astrid Loch & Kevin Wendt (Season 5)
View this post on Instagram

They split in Paradise, but Wendt and Loch later reconciled and then got engaged in August 2019. In May 2021, Loch announced that they were expecting a baby, writing on Instagram, "Even in my wildest dreams I couldn't have imagined how amazing this would all feel." Their bundle of joy, son August, arrived that November.
Hannah Godwin & Dylan Barbour (Season 6)
View this post on Instagram

They haven't tied the knot yet, but Godwin told E! News this June that she already feels married to Barbour. "We've lived in four houses together now," she observed. "We obviously are in it for the long haul. Our families are super involved and close. A lot of it does feel like we have that marriage type of relationship. Obviously, we want to make memories and seal the deal and everything, but it is one of those things where I feel like we are married in a sense."
See Also
See which bachelors and bachelorettes are returning to the franchise this summer.
Caelynn Miller-Keyes & Dean Unglert (Season 6)
View this post on Instagram

Speaking of pending nuptials, Miller-Keyes revealed to People this month that she and Unglert want to elope. "We recently went to his brother's wedding, where they engaged and then married the next day," she explained. "It was solely about their love, so we just want to focus on our love, and it just be about that and nothing like … extraordinary."
Becca Kufrin & Thomas Jacobs (Season 7)
View this post on Instagram
Though Thomas managed to sweep the former Bachelorette off her feet in Paradise, Kufrin broke things off ahead of the Fantasy Suites. But their emotional goodbye didn't last for long, as the two began dating again soon after the show wrapped. The two got engaged after Kufrin popped the question in spring 2022, and a few months later in July, they bought a house together in San Diego, California.
Mari Pepin & Kenny Braasch (Season 7)
View this post on Instagram
Pepin and Braasch immediately connected at the start of Season 7, but new connections and doubts put their relationship through the wringer. Luckily, they reconciled and came back stronger than ever, leaving the beach engaged. This July, Pepin took to Instagram to tell fans that their family was getting bigger — "by four legs and a wiggly little tail." Yep, they got a new dog named Eleven.
Serena Pitt & Joe Amabile (Season 7)
View this post on Instagram
Amabile returned to Paradise not expecting to find love, but Pitt managed to capture his heart. Not even the return of Amabile's ex-girlfriend Kendall Long could split them up! The first-ever BIP Prom King and Queen ended the season engaged and are enjoying their new lives together, with Amabile calling Pitt his "everything" in on Instagram.
Abigail Heringer & Noah Erb (Season 7)
View this post on Instagram
Seen as one of the strongest couples on the beach, Heringer and Erb's split before the season finale left viewers devastated. The pair got back together after leaving the beach, taking things at a slower pace this time around. "You never know what you got until it's gone, then you never let it go," stated Erb in a sweet Instagram post.
Pieper James & Brendan Morais (Season 7)
View this post on Instagram

James and Morais — who reportedly dated before hitting the Paradise beach — quit the show three weeks into Season 7 but are still a pair. In an Instagram Q&A this month, the couple revealed that they were moving in together and thinking about the next step. "I want to propose immediately, but I can't afford the ring that Pieper wants at this current moment," Morais quipped, per Bachelor Nation.
Alana Milne & Chris Conran (Season 7)
View this post on Instagram

Milne and Conran also faced allegations that they committed to one another before Paradise Season 7 filmed. They left the show alongside James and Morais, and they're still going strong. "I can't believe it's been a year since the airing, and I'm so happy to have you by my side!" Conran wrote to Milne in an Instagram post this month. "It's not the easiest thing to go through, but I was so lucky to have you with me. The show sucked, but I got the treasure of a lifetime from it. I love you, Alana."
Bachelor in Paradise, Season 8 Premiere, Tuesday, September 27, 8/7c, ABC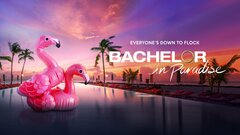 Powered by