Flash Back to Merv Griffin's Interviews with Past Presidents on getTV
Merv Griffin spoke to many prominent politicians during his talk show's late-night and syndicated run between 1962 and 1986, and the folks at getTV are showing interviews with former presidents at various stages of their political careers, starting Monday, October 17 at 10/9c, and continuing every Monday until Election Day eve on November 7.
First up: a December, 1967 debate between Richard Nixon, who would soon announce he was running for president in 1968, and talk show host David Susskind, who didn't think Nixon was a viable candidate and told him so (sound familiar?)
Next, on October 24, is a 1981 talk with Gerald Ford, who had been out of office for about four years, and was about to see the man who defeated him, Jimmy Carter, be replaced in the Oval Office by Ronald Reagan.
RELATED: Stephen Colbert Talks With Hillary Clinton Over Cheesecake and Pastrami (VIDEO)
Speaking of Carter, his November, 1982 talk with Merv will be shown on October 31. On that episode, he talks about his then-new memoir, how crushing his defeat was at the hands of Reagan, the Iran hostage crisis, his family and faith and more.
Finally, on November 7, getTV replays Merv's September, 1983 interview with Reagan—the first time a sitting president was on a non-news talk show. He's joined by his wife Nancy, and they talk about the attempt on his life two years prior, as well as Reaganomics and what he hoped his legacy would be.
Here's a question Merv asked Nixon during his 1967 appearance that wouldn't be all that out of place during the tumultuous 2016 election:
For a complete listing of times, including rebroadcasts, check out www.get.tv/schedule.
Presidents on Merv, Mondays starting October 17, 10/9c, getTV.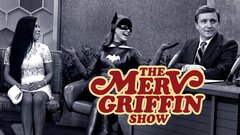 Powered by