12 Things We Learned From One Chicago's 'Apocalyptic' Crossover Trailer (PHOTOS)
One Chicago is preparing for "some sort of apocalyptic event" during the big crossover.
NBC released the trailer for the three-hour event, "Infection," which starts over on Chicago Fire, moves to Med, and concludes on P.D. on October 16. And there is quite a bit going on across the three shows.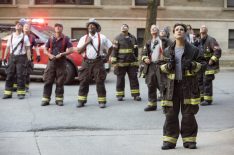 See Also
What do you think of the newest member of Truck 81?
As you can see, there is going to be plenty of crossover with the characters in all three episodes and not just during the crisis. In fact, the first responders are enjoying a bit of downtime when it all begins.
Watch the trailer below and click through the gallery above for a sneak peek at the threat overtaking the city — and which character may be the most in danger.
One Chicago Crossover, Wednesday, October 16, 8/7c, NBC