'Good Witch: Curse From a Rose': Sneak Peek at Hallmark's Halloween Event (PHOTOS)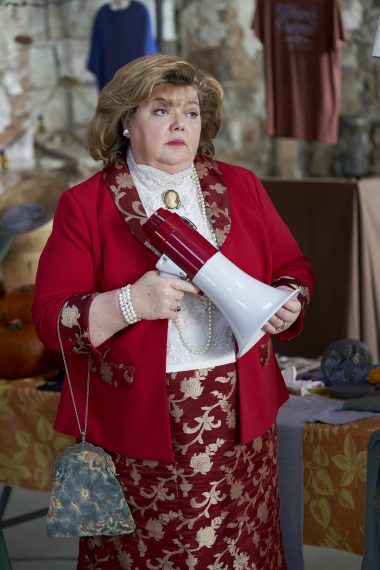 Halloween is the most wonderful time of the year in Middleton and the town plans a huge event to celebrate in Good Witch: Curse from a Rose, a two-hour event premiering Saturday, October 19 on Hallmark Channel.
Cassie (Catherine Bell) receives an unexpected visit from her college roommate Autumn Deveraux (Lolita Davidovich), who harbors resentment toward Cassie over a past event. Cassie relies on her magical instincts to help Autumn through her unresolved feelings before she sabotages Middleton's celebrations. Martha (Catherine Disher) plans a bonfire to honor the season and tries to ignore her husband's failure to recognize the anniversary of their engagement on Halloween night.
Bad luck seems to thwart Sam's (James Denton) attempts to plan a romantic Halloween for Cassie since it's their first as a married couple, despite the arrival of a mysterious good luck charm. Donovan (Marc Bendavid) makes a wager with Abigail (Sarah Power) over the Halloween-themed triathlon he is racing against Sam, with the winner earning the rights to decide the couple's Halloween plans.
Stephanie and Adam rally the town to break the pumpkin carving record held by Blairsville. Meanwhile, George (Peter MacNeill) and Nick (Rhys Matthew Bond) search for Middleton's mythical sea monster. As the bonfire nears, Cassie works her magic to help Autumn overcome the past and take control of her future.
Click through the gallery above for a sneak peek at the Halloween special!
Good Witch: Curse From a Rose, Premiere, Saturday, October 19, 8/7c, Hallmark Channel