'This Is Us,' 'Westworld' & More Snubs of the 2019 Golden Globe Nominations (PHOTOS)
Every year there's always a few shows that viewers don't feel get enough awards love and that feeling hasn't changed since the Golden Globes 2019 nominations were revealed December 6.
From roles that deserve recognition to shows that were too good to be shut-out, we're rounding up 9 of the biggest snubs of the season at this year's Globes. Between This Is Us, Westworld, Atlanta, Better Call Saul and Maniac, there was no shortage of disappointments for these beloved series.
Above, click through the images in the gallery to learn about the ways in which these shows lost out despite a good run in 2018.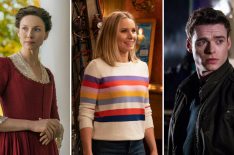 See Also
'Outlander,' 'The Good Place,' 'Bodyguard' and more were among the welcome TV surprises.
Golden Globes 2019, Sunday, January 6, 8/7c, NBC