What We Loved and Loathed on TV in 2019 (PHOTOS)
'Tis the season to be judgy, fa-la-la-la-la!
That's right, it's another year-end list because it's that time of year when folks start aud lang sighing over the past, be it personal relationships, work issues or our favorite: Television! And with so much going on in 2019 — New streaming services! More scripted shows than ever! Grotesque sexual harassment situations at Survivor! — it's impossible to fit in everything that was good and bad about TV over the last 12 months.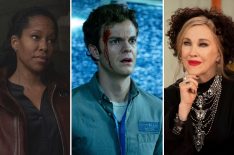 See Also
Plus, we reveal our most recommended shows and favorite performances.
So scroll through our picks in the gallery above and put in your own two cents in the comments section. Just keep it polite and on topic.