Inside the 2017 Television Industry Advocacy Awards (PHOTOS)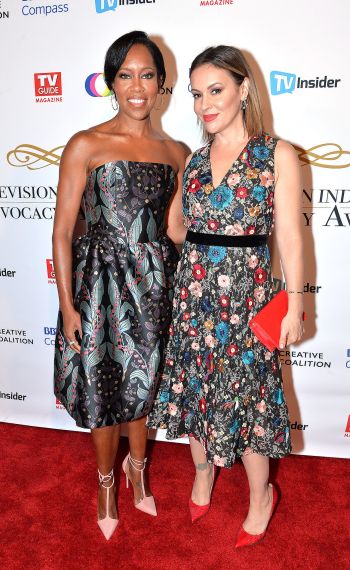 Saturday evening before the 69th Primetime Emmy Awards, TV Guide Magazine and TV Insider hosted the third annual Television Industry Advocacy Awards in Hollywood in partnership with The Creative Coalition. The TIAA honors celebrities for the way in which they use their platforms for social good. The Television Industry Advocacy Awards is sponsored by BBVA Compass, a top U.S. bank committed to creating opportunities to help people fulfill their dreams.
This year's event was hosted by Curb Your Enthusiasm's Cheryl Hines and featured an impressive group of presenters who helped honor this year's recipients.
During the ceremony, NBC's President of Entertainment, Jennifer Salke, presented the Television Industry Advocacy Award to This Is Us's Chrissy Metz (Operation Smile), who explained why the charity is important to her.
"My nephew was born with facial deformity—with a cleft lip and palate—and while he was in America where's there's of course great insurance and coverage and the possibilities for great surgeries, there isn't in so many places," Metz said, citing how affordable it is to help those in need ($300 for one plastic surgery). "I'm just really honored to be here and be in this room. I think why we're here on this planet is to learn, to teach, to grow and to evolve and I think we're all doing that collectively so thank you very much."
Also during the ceremony, Pretty Little Liars' Ian Harding, who supports the Lupus Foundation of America, presented the Television Industry Advocacy Award to his co-star, Troian Bellisario (National Eating Disorder Awareness). During her speech, with husband Patrick J. Adams (Suits) watching from the audience, she spoke of her own experience with mental illness and an eating disorder.
"Many men and women today have struggled and are currently struggling with mental illness. I am one of them," Bellisario shared. "I was fortunate enough to have access and the resources to seek treatment. Early diagnosis and medical support can mean the difference between life and death for someone who's suffering from an eating disorder. And now with the support of my family, my friends and my new husband, Patrick, thanks to all of these things, I have a life. I have a very full life and it is a full life in which my mental illness now only plays a small, still present but significantly less powerful role."
Bellisario channeled her experience into writing the film Feed, in which she also stars with Tom Felton.
Other honorees, their presenters and their charities at the event were:
Director Kevin Smith presenting to Stranger Things' Finn Wolfhard (Sweet Relief)
This Is Us star Milo Ventimiglia presenting to Alyssa Milano (UNICEF)
Agents of S.H.I.E.L.D. star Clark Gregg presenting to his co-star Chloe Bennet (Community Empowerment)
Ten Days in the Valley star Erika Christensen presenting to Seth Green (Turning Point)
Sandra Lee presenting to Shark Tank's Robert Herjavec the first Bright Futures Award (Seattle's Union Gospel Mission)
Director Tim Story presenting to his lifelong friend, American Crime's Regina King (I Have A Dream Foundation)
Robert Kennedy Jr. presenting to Keegan-Michael Key (Robert F. Kennedy Human Rights)
For more on The Creative Coalition, visit thecreativecoalition.org. For more on BBVA, www.bbvacompass.com/.