'Jimmy Kimmel Live's Guillermo Rodriguez on Going From Guarding Cars to Interviewing A-Listers
A wry sense of humor and a healthy dab of joie de vivre transported Guillermo Rodriguez from guarding cars in an ABC lot to sidekick status on Jimmy Kimmel Live! The now 45-year-old quickly bonded with Kimmel's late Uncle Frank and Kimmel himself, who serves as godfather to Rodriguez's son. "We hang around together," Guillermo says of his buddy and boss. "I go to his house to watch football and everything. He's a great guy." We sat down for a heart-to-heart with the Mexico-born charmer whose signature "Back to Back" interviews are an A-lister must.
Did you experience more dramatic things when you were doing security or now that you are a TV personality?
You know what? Both, because when I was a security guard, a lot of things happened to me. I met a lot of celebrities while I was working and a lot of things happened, and they told me, "Keep it a secret! Keep it to yourself!" A lot of great things have happened. I think I should write a book. [Laughs]
RELATED: Jimmy Kimmel on Hosting the Emmys and the "Great Group" of Nominees
Did you know you were a funny guy even before people fell in love with you on the show?
I used to play around with my grandma when I was a little kid. I think why people like me is that I'm just being myself. It's just me being me, you know?
I do. And you make interviewing look so easy. Has anyone left you tongue-tied?
I interviewed Robert De Niro and I think an hour before we showed up to the place where we were going to meet him, I was so nervous. Like, my hands were sweating and everything! When Robert De Niro got to the place, the director told him, "Do you know Guillermo?" and he goes, "Oh yeah, I know Guillermo! I'm aware of what he does and everything. Let's go for it!" I was like, "Oh my God, that's good!"
RELATED: Game of Thrones Producers Apologize for "Hodor" on Jimmy Kimmel Live (VIDEO)
Do you have a JKL bucket list—anybody you'd like to talk to, or somewhere you'd like to go with Jimmy?
You know what, there's two ladies that I love! I would like to do a show with Madonna, or I would like to be in one of her videos, even, like, in the background dancing! Beyoncé too!
Jimmy Kimmel Live!, Weeknights, 11:35/10:35c, ABC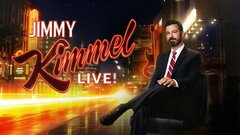 Powered by