What's Worth Watching: 'The Simpsons', 'Transparent', 'Longmire', 'NCIS: Los Angeles', 'Quanitco' and more for Friday, Sept. 23 thru Sunday, Sept. 25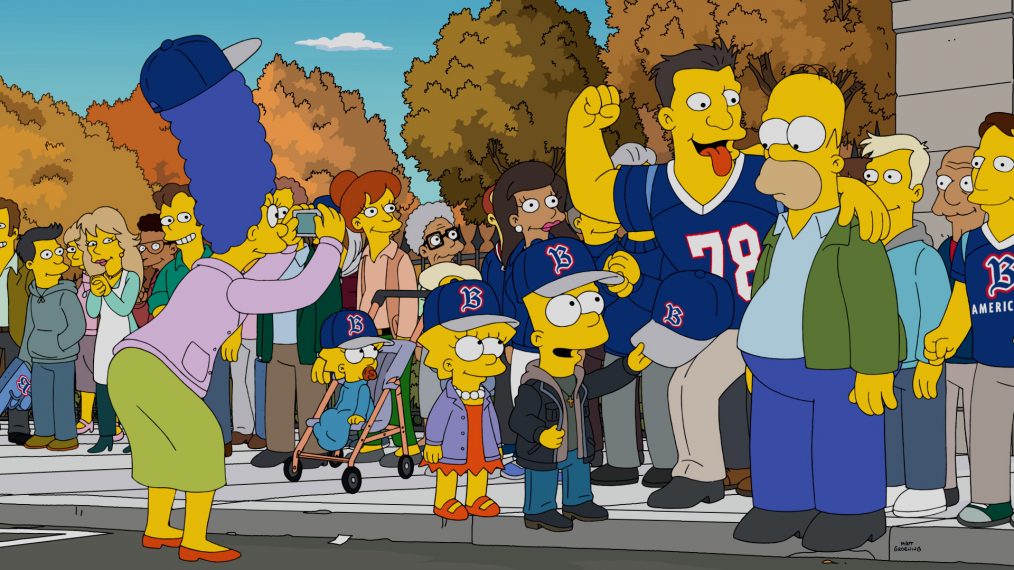 The Simpsons (Sunday, 8/7c): In a stunt designed to make some noise for the new seasons of Fox's animated series, Amy Schumer is the guest voice in each of the season premieres. Kicking off the 28th (!) season of The Simpsons, Schumer voices Mrs. Burns in a flashback to a traumatic chapter in Montgomery Burns' youth, which may explain how he became the villainous crone he is today. In the seventh-season opener of Bob's Burgers (7:30/6:30c), she's "Young Lady" in an episode that largely takes place in Louise's fever dream, and the 15th season of Family Guy (9/8c) features her as "Crew Leader" as Stewie and Brian start a band, until a girl goes all Yoko on them and drives them apart.
Streaming for Your Pleasure: Because this network premiere week wasn't busy enough, the streaming services drop entire new seasons of fan favorites on Friday. Amazon presents a profoundly moving third season of the Emmy-winning Transparent, and Netflix offers a fifth season of the contemporary Western mystery Longmire, a rescue mission after A&E short-sightedly junked this absorbing show after three years.
CBS Sunday Morning (Sunday, 9 am/8c, CBS): A very fond farewell to the venerable morning show's longtime host Charles Osgood, stepping down from this prestigious cultural newsmagazine (TV's equivalent to NPR) after 22 years in the anchor chair. In his honor, the program will salute Osgood's 45-year career at CBS News with highlights and interviews and surprise guests. He leaves this wonderful series in great shape, and the best news is that he'll continue his The Osgood File on the CBS Radio Network and expects to be seen from time to time on CBS Sunday Morning.
Poldark (Sunday, 8/7c, PBS, check local listings at pbs.org): The ravishingly romantic historical Masterpiece opens its second season with a two-hour ordeal for dashing Cornwall crusader Ross Poldark (Aidan Turner), who's facing trial and possible execution on charges of murder and plunder. Who's behind it? Who do you think: sniveling villain George Warleggen (Jack Farthing). While Ross wonders if anyone will stand for his defense, loyal and fiery wife Demelza (Eleanor Tomlinson) is keeping a secret from her noble lover. Such great escapism this is.
Inside Weekend TV: Moving to a new night, CBS's NCIS: Los Angeles launches its eighth season with a two-hour premiere (Sunday, 8:30/7:30c) in which Undersecretary of Defense Corbin Duggan (Jackson Hurst) takes over the L.A. office from Hetty and Granger. Place bets on how long that will last. … There's a new murder case for the second season of ABC's Secrets and Lies (Sunday, 9/8c), with Detective Andrea Cornell (Juliette Lewis) training her creepy glare on private-equity prince Eric Warner (Michael Ealy), the obvious prime suspect in the murder of his wife, Kate (Jordana Brewster). … ABC's Quantico (Sunday, 10/9c) resets for Season 2 with Alex (Priyanka Chopra) joining the CIA after her turbulent year at the FBI. Once again, she's caught in a deadly conspiracy, but we have to hope the story doesn't become as hopelessly, maddeningly convoluted as it did the first time around.