Sara Haines Dishes Her New Deal With 'The View' and Why She'll Never Have an On-Air Meltdown
The 20th season of The View kicks off September 6 with Good Morning America Weekend anchor Sara Haines, formerly a guest host, getting a permanent chair at the table. Well, as permanent as anything at The View can be…
You're taking the cohost seat held last season by Michelle Collins. How does it feel to sign on to a show with such a high mortality rate?
I've seen the headlines about The View's "musical chairs" and know I'm a chess piece that could work this season and maybe never again. People have said, "What if they kick you out?" But this is a huge, amazing opportunity, so it's a risk I gladly take.
Have you been Barbara Walters–approved? Or are we now a generation past that?
I honestly don't know if Barbara still has host approval, but I'd be so flattered if she knows who I am. [Laughs] Hey, even if the producers said, "No, Barbara, Sara is the third blonde from the right," I'd still be flattered.
RELATED: Joy Behar on What She's Learned From The View (Even When She Walked Off the Set)
It's crystal clear where the other cohosts stand politically, but not you. Why are you so hard to read?
I was raised in an extremely conservative household in Iowa and did not come away unaffected by that. But I went to Smith College, which leans left, and I once substituted for my brother, who is gay, on a New York volleyball team of all-gay men and never left the league. So now I have more gay friends than straight ones. Combine all that and it leaves me somewhere in the middle. I'm a melting pot of beliefs.
You're not human if at least one of the cohosts on The View doesn't annoy the crap out of you. But who doesn't like Sara Haines?
Oh, you'd be surprised, and this goes back to me being hard to read. After I started as a guest host, I'd go on social media and laugh because some people were saying, "I can't believe The View has added another conservative to the table!" And other people were going, "If they add one more liberal to this show I'm gonna stop watching!" And they were all complaining about the same cohost—me!
You're such an incredibly peppy person. Is it hard always being a ray of sunshine?
Nope, this is me. I've been this way my whole life, though my husband says it sometimes teeters on annoying.
So there's no way you'll ever have an on-air meltdown like a few other View cohosts we might mention?
It could never happen. The people you see have a meltdown on TV also have them among friends and family and that's so not me. I grew up being the peacekeeper in my family. It's just not in my nature. Well, unless I get pregnant again. [Laughs] I've seen my hormones do some pretty crazy s—t!
You certainly played up your first pregnancy for all it was worth on GMA.
[Groans] I did. I tend to overshare…on TV, at dinner parties, with strangers at the grocery store. But it wasn't my plan to make a big deal out of it. In fact, I had intended to keep my pregnancy quiet for as long as possible. I was approaching it like any other woman in the workforce because I didn't want it to work against me. When I found out I was pregnant, [GMA anchor] Amy Robach was one of the only people I told and I asked her for advice. We've been friends for years, and she's very old school. I was sure she'd say, "Don't talk about it at all. You don't want people gauging your assignments based on pregnancy." Instead, she was like, "Oh, my God! Tell everybody! And as soon as you can! Morning TV and babies are the perfect match!" It was not the answer I was expecting. [Laughs] So now I know what it feels like to pimp a pregnancy!
You coanchored the fourth hour of Today for a while. What did you learn from Kathie Lee and Hoda, besides how to day drink?
I had a front row opportunity to watch excellence. Kathie Lee and Hoda throw out the rule book and do talk TV their way. They are all about chemistry and wherever that chemistry—and the wind—takes them. They taught me to trust my gut. When it comes to doing a talk show, there's what everybody thinks is the right way to do it, and then there's Kathie Lee and Hoda's way. I also learned at Today that it's important not to always feel you have to make your presence known and give your big opinion. Sometimes it's better to just listen to the other hosts, and I bring that with me to The View. When you work with talk-show legends like Whoopi and Joy, the best thing you can do sometimes is just shut up, sit back and take it all in. They are the most amazing teachers.
Didn't you start out your career working backstage at Today?
I was the production coordinator, booking cars for the hosts and the guests and arranging the catering. My original plan—my big dream—when I came to New York was to get into sketch comedy, but nobody thought I was funny. Well, except for my mother. I still think about it. If Lorne Michaels called and said he had a spot for me on Saturday Night Live, trust me, I would drop everything!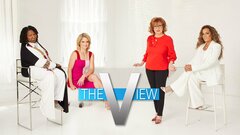 Powered by