'Fargo's Jack Huston on Odis' Journey & His Battle for Control in Season 4
[Warning: The below contains MAJOR spoilers for Season 4, Episode 10 of Fargo, "Happy."]
Only one episode remains in Fargo's fourth season and the characters are dropping like flies. But before viewers find out who is next on the list, we're bidding Jack Huston's (Boardwalk Empire) Odis Weff farewell.
The dirty cop who was first involved with the Fadda family found himself under the thumb of Loy Cannon (Chris Rock) as the season carried on. But after a shoot-out at the Union Railway Station in Episode 8, "The Nadir," he walked away with more control. Plagued by the memories of war, a murdered fiancee as well as his struggle with OCD (Obsessive Compulsive Disorder) and tics, Odis put himself in a precarious position by refusing to help Josto Fadda (Jason Schwartzman) in the growing war between the Italian syndicate and Loy Cannon's crew.
He ultimately paid the price when Josto's burly brother Gaetano (Salvatore Esposito) met him with a gun outside of his apartment after returning from the police station. Despite facing death, the tortured soul wore a smile and found peace in the seconds leading up to his shooting (which was promptly followed by Gaetano's accidental death after the killer tripped and shot himself). Below, Huston opens up about his character's fate, the research he did for his role, connections to past Fargo seasons and much more.
See Also
The young actor talks about his big episode, and the time Chris Rock told him 'get ready to be a big star.'
Your character Odis is extremely layered, from being a crooked cop to his OCD and PTSD. What drew you to the role initially?
Jack Huston: I was initially asked to go in for a meeting with [Noah Hawley], and after a beautiful two hours of chatting, he said, "Oh, I'm thinking of you about this character of Odis, where he's a cop in the Kansas city police department who's suffering from severe OCD. What do you think?" And I was like, "I'm in man." I didn't know anymore [than that].
And I was so pleasantly surprised because you meet Odis and what you see on the surface is very much what everybody else sees. So every episode I was giving a little more and a little more and I thrive in those kind of characters. There's nothing more fun than taking a deep dive and I found Odis to be fascinating. I did a lot of research and I had a lot of people reach out to me actually, who do suffer from obsessive compulsive disorder and Tourette's, thanking that we are actually portraying it on screen and seeing the daily torture that one has to go through.
Odis gets pushed around a lot and he finds his footing a bit towards the end, but he had a rough ride and only that was perpetuated by the situation he finds himself in.
Odis makes some bold decisions towards the end of his story, from shooting Dick "Deafy" Wickware (Timothy Olyphant) to refusing to help the Faddas and Cannons. He told Deafy that the only way to suppress his tics was to feel in control, were those decisions based on that?

It's entirely true, it's exactly what happened to Odis. He felt by being a cop he'd have more control. But instead he ends up under the thumb of the Faddas and then suddenly he loses the power. And you've got to also realize that Deafy's squeezing him from the other side, as well as Swanee (Kelsey Asbille) and Zelmare (Karen Aldridge) who were escaping. He's found himself in this trifecta, it's excruciating for his brain.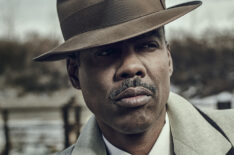 See Also
Creator Noah Hawley also previews Chris Rock and Jason Schwartzman's characters.
So in a sense he does this last act, it's horrific, but it's freeing for him. He will never ever take another order from anybody else. He fights the power, which I thought was beautiful. Because now by doing that he's regained some semblance of power and then he defies them all. He's done being under the thumb. He turns on the Cannons. He turns on the Faddas. He's just like, "you know what, I'm actually going to do what I should've done from [the beginning]. I'm a cop now. I'm going to do what's right."
The penultimate episode is titled "Happy." Do you think Odis has found peace or happiness by the end of his story?
I hope so, because I played it completely that he found utter peace. I loved that sentiment. I thought it was such a fitting and beautiful ending for Odis. He almost feels all his tics, all his idiosyncrasies, everything that has plaguing him, when he hears the sound of his fiancee's voice, these things almost fall away.
There's this wonderful moment that I have with Gaetano (Salvatore Esposito), who I look at out through my window and he's parading with his guns. He loves killings more than anything. And the reason it takes him a second to shoot me and he looks so confused, is because he's about to kill somebody who looks truly happy. I think Odis is completely given in to the fact that he's going to die and it's the best he's felt for a very long time.
Do you think Odis saw Gaetano trip and accidentally shoot himself as he was dying?
I love it. It's so funny I haven't actually thought of it like that, but it would be a lovely icing on the cake, if you got to see [Gaetano die].
See Also
A war is brewing between two Kansas City crime families in 1950 in the fourth installment of FX's quirky anthology.
How did you prepare for your role because Odis does have a lot of tics and physicality involved in the performance?
There is a lot of stuff you can watch on Tourette's. And this one show I watched, it would bring me to tears. I watched with my partner over and over again, called Teenage Tourettes Camp. It even gets me emotional speaking about it because you're thinking these are kids, they haven't even started their life. And they are so hindered by this.
So I did a lot of watching stuff and I have a friend of mine, he's actually an actor who has Tourette's. And that was really interesting just speaking to them because they said as soon as the camera's rolling, they don't have it because they're playing a character.
My grandfather (director John Huston) actually did a documentary post-World War II, that was banned by the American government because they said it wasn't pro-war. And my grandfather said, quite rightly, "that if I ever make a pro-war film, I expect someone to take me outside and shoot me." Let There Be Light, I watched that a lot when I was doing Richard Harrow [on Boardwalk Empire].
Fargo tells a different story each season, but there's always some hints and nods to the past. What are some you've noticed in Season 4?
There's certain connections that I found out along the way, just on the journey, which I was like, "Oh my God, that's amazing, that's so crazy." So there are connections. [Noah Hawley]'s very smart about how he does it. He does a lot of homage to the Coens and about different things they've done. In the last episode, "East/West," they called the hotel that Rabbi (Ben Whishaw) and Satchel (Rodney L. Jones) were in, Barton Arms, like Barton Fink. But he puts little things in that if you blink, you'll miss them. He's very smart about it and there is connective tissue to other seasons, which will become apparent once everyone's seen it.
Fargo, Season 4, Sundays, 10/9c, FX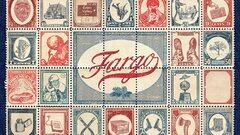 Powered by