Mountaineers Go on an Epic Adventure to Solve 'Everest's Greatest Mystery' (VIDEO)
In 1953, Sir Edmund Hillary and Tenzing Norgay became international heroes by reaching the summit of Mt. Everest, accomplishing what many had tried before and failed. Their names went down in the archives of history. But what if Hillary and Tenzing weren't actually the first to reach the summit? What if another group of explorers made it first? Could history be wrong?
In Everest's Greatest Mystery, premiering Sunday, October 11 on Discovery Channel, a team of expert mountaineers retrace the ascent of George Mallory and Andrew Irvine, to solve the mystery of the two explorers who perished on their journey to Everest's peak in 1924.
After setting off on an expedition to summit Mt. Everest in 1924, carrying only essential tools and a Vest Pocket Kodak camera, George Mallory and Andrew Irvine disappeared.
After the discovery of Mallory's preserved body on the north face of the mountain in 1999 by a group of researchers, many have speculated whether the two explorers did indeed successfully summit the mountain before they perished.
Journeying to the top of Everest to investigate the scene of a tragedy just shy of its peak, the team of expert explorers and climbers, led by Jake Norton, are tasked with settling one of the greatest debates of all time.
Collectively, Norton and his team have summitted Everest 17 times, but this time they're not on the mountain to reach its peak, but instead to unravel one of history's greatest mysteries.
Using satellite images as a search guide, the documentary pieces together the clues and evidence that could lead to Irvine, the camera, and resolution once and for all.
Everest's Greatest Mystery, Premiere, Sunday, October 11, 9/8c, Discovery Channel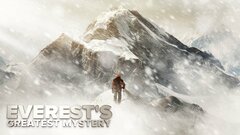 Powered by