'Life In Pieces' Adds Megan Mullally and Nick Offerman For Season Premiere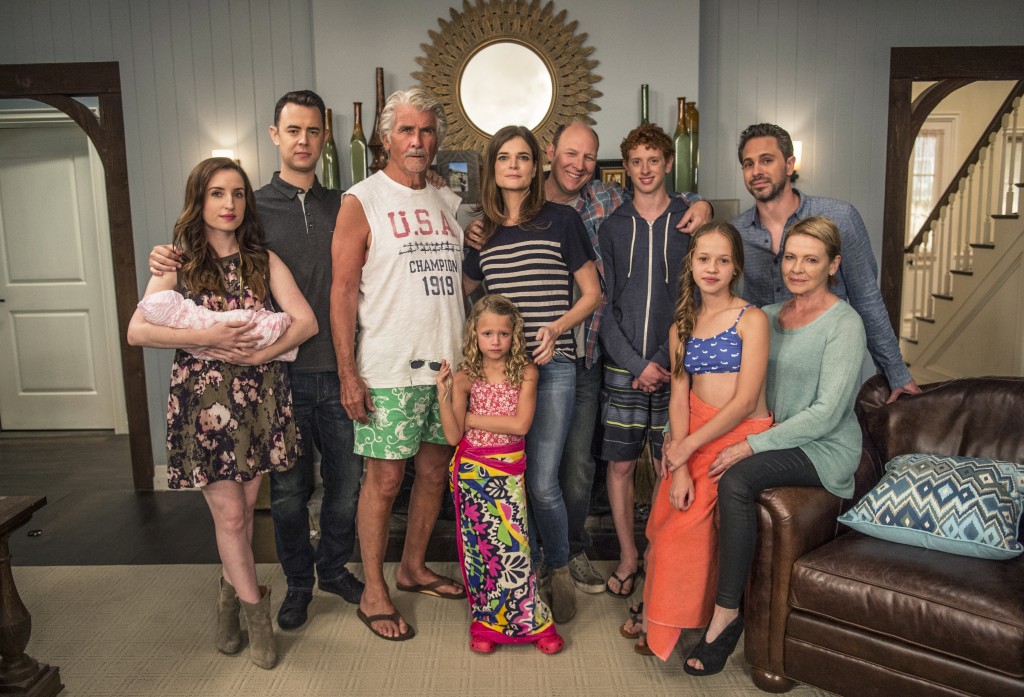 The season premiere of Life in Pieces in October will feature several guest stars to kick off the CBS sitcom's second season.
Married comedic actors Megan Mullally (Childrens Hospital, Will & Grace) and Nick Offerman (Parks and Recreation) will appear in the season premiere as unconventional parents to Clementine (Hunter King). The backstory is that Mullally's character, Mary-Lynn, asked her brother, Spencer (Offerman), to help her parent her children when her husband left her. Mary-Lynn and Spencer's uncomfortable closeness as siblings (they share a bedroom, for example) will serve as comic fodder to the rest of the cast.
RELATED: CBS Renews Life In Pieces For a Second Season
Following a Television Critics Association panel on the Life in Pieces set today, creator Justin Adler explained more about Mullally and Offerman's characters. "They play this really unique brother and sister who are raising her children together but he is their adopted Dad and the kids call him 'Uncle Dad.'" He added that he and his writers wrote the story with Mullally and Offerman in mind and then were surprised when they agreed to appear on the show.
It was also announced during the panel that comic actress Fortune Feimster (The Mindy Project) would be returning to the series for a recurring arc as Dougie. "She was so funny that the idea of having her be this comedic obstacle for Matt (Thomas Sadoski) and Colleen (Angelique Cabral) got us so excited about what we can do." Much as Jordan Peele played an obstacle in the first season, Adler said, "we see Fortune really pick up where he left off ."
RELATED: James Brolin on Why He Returned to TV for Life in Pieces
Along with Mullally and Offerman, Adler also revealed that Feimster will appear in the season premiere and her story would continue later in the season with many of the regular characters helping her figure out her sexuality. "She's playing a sexually confused character and we're building an arc where she comes out of the closet. The women, Heather (Betsy Brandt) and Jen (Zoe Lister-Jones) and Colleen are going to take her out to a gay bar and try to meet somebody so we're super excited to explore that side of things."
Life in Pieces season premiere airs October 27 on CBS.