9 of the Best Songs From 'The 100' (VIDEO)
A show is only as good as the tunes it employs to tell its story. Can you imagine Game of Thrones without the opening credits music, or Grey's Anatomy without Snow Patrol's "Chasing Cars?" They just wouldn't be as good minus those perfectly fitting songs.
The CW's The 100 is another example of a series that consistently chooses music that elevates already-excellent scenes. Throughout the past six seasons we've heard uplifting tunes, sad tunes, angry tunes and even some dubstep! Here are nine of our favorite songs from the show.
"Add it Up," Shawn Mendes (Cover)
This was controversial when it aired, since some fans thought seeing Shawn Mendes belt it out at the Arkadia piano kind of messed with the whole post-apocalyptic aesthetic. Whether you loved the moment or hated it, there's no denying that the ominously beautiful song set the perfect tone for the first few episodes of Season 3.
"Can't Pretend," Tom Odell

Remember when Octavia (Marie Avgeropoulos) hadn't so much as held a weapon or met Lincoln (Ricky Whittle)? You have to think back pretty far — to the beginning of Season 1. Back then, O was trying to act out because she could, and that led her into the arms of Atom, who Bellamy (Bob Morley) promptly left to die in the woods for messing around with his sister. "Can't Pretend" makes that scene much more eerie.
"Thousand Eyes," Of Monsters and Men

This atmospheric track played when a suffering and heartbroken Raven (Lindsey Morgan) decided to erase her pain by taking the City of Light chip — and then found herself meeting ALIE (Erica Cerra). Everything about it blends well with the emotion and the stormy setting of the scene.
"Alors on Danse," Stromae

As if it wasn't clear before, when "Alors on Danse" played, it was obvious the old Clarke Griffin (Eliza Taylor) couldn't come to the phone right now. But it was nice to see her (as Josephine) dancing, painting and singing, since that was probably the happiest she'd been since she set foot on the ground in Season 1. More happy musical moments for Clarke, please!
"We Come Running," Youngblood Hawke

A cheery tune for a happy scene that got very dark, very fast. When it starts out, the small group heading to the other mountain for supplies is flirting, exploring and acting like teenagers — until the mood evaporates when Jasper (Devon Bostick) takes a spear to the chest.
"Radioactive," Imagine Dragons

And just like that, 100 teenagers embraced unlimited freedom on a planet where they were (supposedly) the only inhabitants. Did things devolve into chaos while Clarke was trying to determine where their supplies were? Oh, absolutely. The balance between order and chaos is perfectly captured by the fittingly titled "Radioactive," which resurfaces in a later season as an acoustic cover under very different circumstances.
"Empire of Our Own," RAIGN

"You might be the Chancellor, but I'm in charge." And Clarke certainly was, as she wrenched control of the Mount Weather situation from the adults and stormed her way through Arkadia with "Empire of Our Own" playing in the background.
"Science/Visions," CHVRCHES

All alone in the world after her friends went to space and the rest of her pals were stuck underground, Clarke sped away from the wreckage of her home in search of water. Her journey is paired with this electronic-infused tune from CHVRCHES.
"Knocking on Heaven's Door," RAIGN

Will any musical moment surpass this track playing at the end of the Season 2 finale? It's doubtful. "Knocking on Heaven's Door" perfectly captured the emotion, relief and heartbreak that Bellamy and Clarke felt as they said goodbye so Clarke could atone for her sins through solitude in the forest. She bore it so they didn't have to.
The 100, Wednesdays, 8/7c, The CW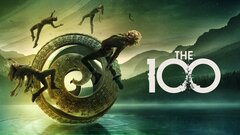 The 100
where to stream
Powered by