You're Guaranteed Goose Bumps Watching 'The Vast of Night' on Prime Video
"Hello…?" Lost phone connections and sudden bursts of static have never sounded eerier than in this chilling sci-fi film, a throwback to classic Twilight Zone episodes.
In 1950s New Mexico, teen Fay (breakout Sierra McCormick) is working the night shift as a telephone operator when she hears a strange series of sounds while talking to a caller. Curious, she loops in her friend, local radio DJ Everett (Jake Horowitz), who broadcasts the audio on the air and asks listeners to help identify the noise.
Before long, a mysterious caller who goes by Billy recounts a creepy story on-air that sends Fay and Everett on a frantic search for the source. No spoilers here, but we will say this: Goose bumps guaranteed.
The Vast of Night, Movie Premiere, Friday, May 29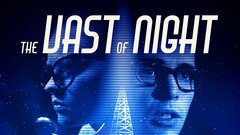 Powered by