'Ripper Street': Reid Returns to Whitechapel in Season 4
The residents of London's crime-ridden Whitechapel district can sleep more soundly: Retired detective Edmund Reid (Matthew MacFadyn) is returning to his beat in the city's downtrodden East End.
The premiere of the penultimate fourth season of Ripper Street opens in 1897 with elaborate plans for Queen Victoria's Diamond Jubilee. Three years have passed since the burned-out copper recovered his long-lost kidnapped daughter Matilda (Anna Burnett) and moved to a sleepy seaside town, "where he's restlessly settled trying to live a quiet life," creator and executive producer Richard Warlow says.
When his ex-lover Deborah Goren (Lucy Cohu) a pillar of the Jewish community, visits to entreat him to help save their friend, a scholar named Isaac Bloom (Justin Avoth), from execution for the murder of a rabbi, Reid agrees to travel to Whitehall to investigate. "That crime is the backbone of the season," says Warlow.
RELATED: BBC America Announces Doctor Who Spin-Off, Adele Special
Isaac isn't the only one due for the gallows. "Long" Susan (MyAnna Buring), the former madam and wife of police surgeon Captain Homer Jackson (Adam Rothenberg), is set to swing for her part in Season 2's train explosion, and her hubby is running out of time to save her. (The couple has a three-year-old and in Victorian times, a pregnant convicted woman's sentence would be commuted until her child was that age.)
While Reid searches for the rabbi's real killer, the police must deal with the violent friction between the local dock workers and the Indian Muslims working among them amid the rise of Islamic activism. "From the very beginning, we wanted the idea of London as a polyglot place, to show how Victorians treated immigration." Warlow explains. "Which in the end, is driven by the same motives more then 100 years later."
When the former inspector shows up at Whitechapel police headquarters, he'll find a lot of changes, including a shiny new building equipped with turn-of-the-century inventions like telephones, micro-readers, and corpse refrigeration.
He must also deal with the fact that, if he officially returns to detective work, his former sergeant, Bennet Drake (Game of Thrones' Jerome Flynn) is now "the very effective head of the Whitechapel police station," Warlow says. "It's a conflict that will be played out."
Ripper Street, Season premiere Thursday, July 28, 10/9c, BBC America.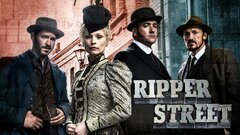 Powered by