Roush Review: Sherlockian Slapstick in 'Year of the Rabbit'
Having killed it as a blustery vampire on FX's What We Do in the Shadows, master clown Matt Berry takes on Sherlockian slapstick in IFC's latest import, Year of the Rabbit, a merrily grody send-up of Victorian crime clichés.
He's the brawling, boozing Detective Inspector Rabbit, a mutton-chopped misanthrope in a rat-eat-rat world. Why's he missing an eyebrow? You don't even need to ask. You may lose count of how often he brings up the fact that a dog chewed it off last Christmas.
This mangy Rabbit, whose heart tends to stop mid-chase, is none too pleased to be saddled with a green criminologist sidekick, Wilbur Strauss (Freddie Fox), who's woefully lacking in street smarts: "We can't arrest you if you keep running," he whines to one perp. They're joined by the chief's bawdy and foul-mouthed daughter, Mabel (Susan Wokoma), who's determined to be London's first female copper: "I'm your man," she boasts. "Who isn't a man."
There is a plot, of sorts, with a lurking conspiracy orchestrated by a mystery woman (the ubiquitous Keeley Hawes). But Rabbit lives and dies by its jokes, which fly fast and furious, including a running gag of street urchins hawking unsavory fare: "Twigs in a bun, treat for the kids!" Where this falls on your own personal taste threshold may depend on how funny you find another of their recurring acquaintances: an avaricious "Elephant Man" Joseph Merrick (David Dawson), who's known to crow, "Merrick don't freak for free."
Yes, it's that kind of farce.
Year of the Rabbit, Premiere, Wednesday, February 19, 10:30/9:30c, IFC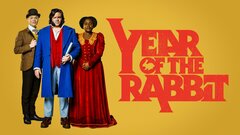 Powered by