'Uncle Buck's Mike Epps: 'Some Stuff Don't Need to Be Said'
Candy is dandy, but now Mike Epps is in the house. The new ABC sitcom Uncle Buck—about a lovable but untrustworthy slacker who becomes a live-in manny to his nephew and two nieces—is based on the beloved 1989 John Hughes film starring the late John Candy. This time, the characters are African-American, but don't go looking for another black-ish.
RELATED: ABC Orders Sitcom Adaptation of Uncle Buck
"Our focus is not on race or social messages," says Epps, best known for the films Next Friday and The Hangover. "Uncle Buck is what it is—a family comedy that's just here to entertain. Yeah, we're black. All you have to do is look at us to see that. Some stuff don't need to be said."
The series, which also stars James Lesure as Buck's brother and Nia Long as his sister-in-law, makes sure that Epps's character—a-booze-and-booty kind of guy—keeps his naughtiness fairly benign. But he is a health hazard to the family: Buck cooks with so much salt—his specialty is pizza topped with hot dogs and Doritos—that youngest child Maizy (Aalyrah Caldwell) can't get her shoes off.
RELATED: Black-ish Remembers the Good Times in a Season Finale Tribute (PHOTOS)
On the upside, he's exactly what you need when you're trying to unload cases of Girl Scout cookies. "Buck is fun-loving and irresponsible, and the kids love him for that," Epps says. "But in his own crazy way he gets amazing things done, and he brings a lot of love into the house."
Epps is one of those rare comics who also land in prestige dramas. He was Queen Latifah's bootlegging lover in HBO's Bessie and will play the legendary Richard Pryor in a feature film opposite Oprah Winfrey. But starring in a comedy on ABC makes him feel like he's finally arrived. "Hey, man, I'm old-school," Epps says. "I was raised on network TV. To me, there's nothing cooler than being on a show that's interrupted by commercials!"
Uncle Buck, Series Premiere, Tuesday, June 14, 9/8c, ABC.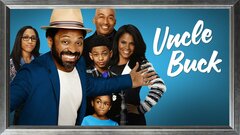 Powered by