Watch My Show: Holly Robinson Peete on 'For Peete's Sake'
For Peete's Sake isn't your typical "crazy family" docu-series.
Sure, the Los Angeles household where actress Holly Robinson Peete and her husband, former NFL quarterback Rodney Peete, live, doesn't slow down. Between the couple's four teenage kids and Peete's 80-year-old mother Dolores (still an active manager in show biz), there's a lot going on. But, as Robinson Peete tells us in our showrunner survey, the goal for their OWN series, whose first season concludes on Saturday, May 7 at 9/8c, is to show a solid marriage and well-adjust family can exist in Hollywood.
I've got room in my life to watch just one more show. Tell me why it should be yours.
Because you know you want to see my 80 year-old momma take her grandkids to the tattoo parlor to get her 5th tramp stamp—I mean "gramp stamp!"
Who should be watching?
Everyone—especially families looking to actually watch a show with their kids for once.
RELATED: Read More "Watch My Show" Columns
What happens if we don't watch your show?
Harriet, our 140lb Newfoundland, will slime you with her sinister slobber.
What's the best thing anyone has said or written about your show?
That right now it's refreshing to see a positive image of an American family on TV—that happens be of color.
What's the worst thing?
That we are not 'ratchet enough' for reality TV…wait maybe that's not the worst thing.
Who was right?
Both.
What's an alternate title for your show?
Meet The Peetes Who Live Down On 21 Jump Street.
Give us an equation for your show.
Run's House plus Blackish plus The Brady Bunch minus Alice & that freaky Butcher dude, divided by The Jeffersons plus Good Times plus Love and Hip Hop minus the stripper poles and weave-snatching.
Come up with a premise for the spin-off.
G-Money For Life: Dolores Gets Datey At Eighty. Driven by the desire to have a step grandfather, Dolores' grandkids create a profile for her on FarmersOnly.com where she finds love with a nice Charlie Pride type of fella and moves to Nashville.
RELATED: First Look: Oprah Winfrey Greenleaf Series (VIDEO)
What credit of yours would you prefer we forget?
My first movie Howard The Duck—hold up—it's now a cult film classic. I'll keep it.
Tell me one thing about your cast.
I gave birth to 4 of them.
What other series would you most like to be an executive producer on?
Empire. Just for the art direction and wardrobe alone! I walked on that set and felt transformed.
Let's scare the network. Tell us an idea that didn't make it on to the screen.
Rodney catches his mother-in-law in the guest house making out with Louis Gossett Jr.
Finish this sentence: "If you like _______, you'll love our show."
Warm Peach Cobbler.
Pick another show, any show, to start a fake feud with.
Billions, just so Axe (Damien Lewis) might actually say my name in that accent…
What other show would you like to do a cross-over episode with—and how would that go?
Reboot the Brady Bunch/GoodTimes, and we all go to Hawaii to remake the Vincent Price episode. But instead of Vincent Price, we have Johnny Depp as Jack Sparrow in that cave. Then the second hour becomes a send-up of the Penny/Janet Jackson episode with Zendaya as Penny. This can be done! This episode shall be dubbed "For JJ's Sake, Don't Let Jack Burn Zendaya with that Hot Comb in Maui!" Ok…still working on this.
How will your show change the face of TV as we know it?
It won't but it will offer a much-needed option!
For Peete's Sake, Saturdays, 9/8c, OWN.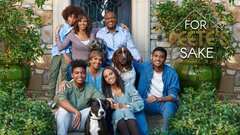 Powered by