'Designing Women's Annie Potts on Revival Hopes & Holiday Marathon Episodes
No one is immune to a blue Christmas, not even the formidable ladies of Designing Women. The CBS classic first sampled the season in a 1987 episode, which airs Saturday, November 30 during getTV's 10-hour holiday-themed sitcom block (start time: noon/11am c).
In "I'll Be Home for Christmas," the team at Atlanta interior design firm Sugarbaker & Associates — fiery president Julia Sugarbaker (the late Dixie Carter); head designer Mary Jo Shively (Annie Potts); office manager Charlene Frazier (Jean Smart); Julia's sister and silent partner, Suzanne Sugarbaker (Delta Burke); and delivery man Anthony Bouvier (the late Meshach Taylor) — are going to be separated from some loved ones on the big day.
It seems no amount of eggnog can help, but in the end, Potts tells TV Guide Magazine, "It's all about, there really is a Santa, and it's in each other." You see, divorced Mary Jo's 6-year-old son (Brian Lando) no longer believes in Saint Nick, which leads to an ill-fated scheme to restore his faith. "I always loved that character," Potts says of her single mom determined to carry on. "She was something we hadn't seen a lot and an inspiration to women in that time."
Something else that hadn't been seen a lot (for good reason): a pig as a guest star. Potts recalls that when Burke brought out her character's new pet on a leash, "the pig got freaked out because its toes were slipping around, so we had to shut down completely while they made shoes for it." That gesture did not please the porker — but a basket of dried fruit did. "Then it gave the pig the worst gas ever in the world!" Potts continues, laughing. "It was a hilarious disaster that wouldn't let up."
Since Hulu recently added Designing Women to its lineup, viewers have been discovering (and rediscovering) the 1986–93 show. "I get very long texts from Delta, who's been watching them all," Potts says. Would the actress, currently playing Meemaw on Young Sheldon, be game for a revival? Potts' answer comes quickly: "I would love to see those mouthy women return." Paging Mr. Claus!
Designing Women Marathon, Begins Saturday, November 30, 6/5c, getTV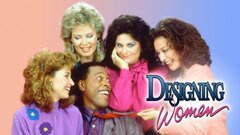 Powered by