See Jonah Hex in 'Legends of Tomorrow's WonderCon Sizzle Reel (VIDEO)
Before DC's Legends of Tomorrow took the stage at downtown Los Angeles' Microsoft Theater the WonderCon crowd got two-and-a-half minutes of trailer awesomeness that teased what's coming up in the final batch of episodes. And lordy, is there a lot of action, emoting and "oh my god, is that…?!" packed into the little gem!
RELATED: More TV News From WonderCon
Check it out here and try to keep count of all the unexpected bits.
Of course we knew that Jonathan Schaech's Jonah Hex debut would be featured, but how about that Ra's al Ghul appearance? Or the gang's return to Star City back when a certain Detective Lance had a full head of hair? Funny though…either we missed it or a certain someone is still getting the cold shoulder from Rip Hunter's team.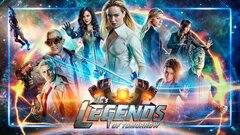 Powered by