Battle of the TV Christmas Movies: Hallmark Channel vs. Lifetime
Christmas is a time of peace … unless you love made-for-TV holiday movies and don't own a DVR.
As of Friday, October 25, Hallmark Channel and Lifetime are both airing Christmas flicks 24/7. But Saturday, the head-to-head battle officially begins when each network premieres an original movie at 8/7c.
Hallmark's first new "Countdown to Christmas" offering is Christmas Wishes & Mistletoe Kisses, featuring fan favorite Jill Wagner as a single mom reviving her career as an interior designer. She's hired to decorate the estate of a workaholic (Matthew Davis, above left, with Wagner) who may no longer want to be a grinch. Just like his matchmaker mom (Donna Mills), you'll root for the guaranteed happy ending.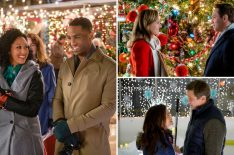 See Also
Get all the details on the 16 new original movies that are part of 'Miracles of Christmas.'
Lifetime's "It's a Wonderful Lifetime" continues a weekend of music-themed premieres with The Road Home for Christmas. The plot sends two dueling piano partners (Marla Sokoloff and Rob Mayes) on a road trip from New Orleans to Akron, Ohio. Their chilly relationship heats up around Nashville, where they get the chance to perform with a superstar (Marie Osmond), whose rendition of "Sleigh Ride" is so good, you'll forget it's still October.
Christmas Wishes & Mistletoe Kisses, Movie Premiere, Saturday, October 26, 8/7c, Hallmark Channel
The Road Home for Christmas, Movie Premiere, Saturday, October 26, 8/7c, Lifetime