Track the Largest Ever Field of Presidential Candidates in 'The Circus' Season 4
Tracking the largest field of presidential candidates in U.S. history, The Circus returns with all-new episodes, starting on Sunday, September 22.
Co-hosts John Heilemann, Alex Wagner, and Mark McKinnon will crisscross the country as an unprecedented cast of Democratic candidates barnstorm key states in their quests to face off against Donald Trump in 2020.
Meanwhile, the president is pursuing re-election amid a growing threat of impeachment and looming international crises.
John Heilemann has covered politics, business and their intersection for 25 years in the U.S. and abroad and is a best-selling author. He is currently National Affairs Analyst for NBC News and MSNBC.
Mark McKinnon is a political advisor, reform advocate, media columnist and television producer. He was the chief media adviser to five successful presidential primary and general election campaigns.
Alex Wagner is currently a national correspondent at CBS News, a contributing editor at The Atlantic and co-host of their weekly news and affairs podcast, Radio Atlantic. In April, she released her first book, Futureface, which examines questions about American identity and immigration in the 21st century.
The Circus, Season 4 Premiere, Sunday, September 22, 8/7c, Showtime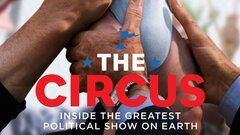 Powered by