'Daredevil' Season 2: The 17 Really Random Questions We Still Have
Warning: some spoilers ahead.
Already devoured Season 2 of Daredevil? So did we, and we have plenty of questions. But our questions are not run-of-the-mill ones about character development and plotlines. Rather, they're focused on supposed plot holes and other details (minor or major, depending on how you look at it) that make us want to quibble and give some serious side eye.
Here's everything (in no particular order) that had us wondering a few silly things from this season. — Additional questions by Evan Lewis
---
When did Ben Urich's frames end up back on his office wall?
Astute viewers will remember that after Ben (Vondie Curtis-Hall) was fired from the New York Bulletin in Season 1, he went home with a box filled with picture frames. The first one he grabbed was the "Battle of NY." Fast forward to Season 2: when Karen (Deborah Ann Woll) set up shop in Ben's old Bulletin office, the same frame was still on the wall. Did Ben have an extra frame…or was everything put back as a mini museum to him?
QUIZ: Have You Spotted These TV Easter Eggs?
Season 1, Episode 12
Season 2, Episode 5
How did Karen make the fastest career changes ever?
Somehow, Karen managed to go from finance at Union Allied Construction to being a legal assistant at Nelson and Murdock to a researcher/reporter (of sorts) at the New York Bulletin in the span of two seasons (so let's say in the span of roughly two years). Here's some real talk: Career transitions are really, really hard in New York City…and pretty impossible if you don't have the very, very specific skill sets needed. And with zero journalism experience, would it really be possible for her to craft a 2,000 word feature (even 250 words can be a struggle for experienced writers) in just 24 hours? And, could Karen have really logged into Ben's computer that easily? What happened to password protection? But, okay, a password scene would have been boring.
Was that, um, mold on Marci's olive?
Let the photographic evidence speak for itself (below). But applause to Foggy (Elden Henson) for fishing out the olive (even if it was with his fingers) to prevent Marci from getting too sick on a questionable cocktail.
Why was Gilles Marini wasted on a Chaste assassin role?!
A guy who's willing to go full frontal in the Sex & the City movie and get extra sultry on Dancing With the Stars deserves more than a few minutes as a tall, dark and handsome stranger who chatted up Elektra at the airport and then proceeded to kill her with more than just his looks. But at least he got to test drive his real French accent.
Did anyone else expect the blood-less Hand victims to turn into zombies?
Once Claire (Rosario Dawson) came upon these five emaciated and bloody victims in the hospital, didn't you half-expect some Walking Dead brain-eating action?
Is Claire just the most doomed "Night Nurse" ever?
Like Karen, Claire has had some crazy sh-t happen to her. In Season 1, she was nearly killed until Daredevil rescued her. Then she got entangled with Jessica Jones and Luke Cage on Marvel's Jessica Jones. Then in Season 2 of Daredevil, her ER almost got shot up by gang members, she came face-to-face with weird Hand victims (see above) and their fresh kill, and her friend/fellow nurse got stabbed by a ninja sword in front of her. On top of that, she got herself fired on purpose and didn't regret it for one second (we think). Girl's got gumption, that's for sure. And with her heading to Marvel's Luke Cage, her troubles won't be ending soon….
Why haven't Matt's neighbors complained about all the loud noises in his apartment?
From Matt's screaming (when he temporarily lost his hearing) to all the fighting against Hand ninja assassins, it's amazing a petition hasn't gotten around to boot Matt from his apartment. Especially since all the fighting aren't muffled by carpets (which, according to NYC rules, have to cover 80% of an apartment). Yes, New Yorkers are known for keeping to themselves, but still.
Does The Chaste's clean-up crew also make housekeeping calls?
Who wouldn't want an on-call clean-up crew to remove all traces of blood after a ninja fight in Matt's apartment? But, how does one get this kind of job in the first place?
Could Karen really have found time to spackle her apartment?
Between being shot at and kidnapped and not really making money at Nelson and Murdock, how did Karen have money to buy spackle and have time to patch up her wall? And, being that everyone lives on top of each other in New York City, it's also shocking that that her neighbors and landlords haven't banned her either.
Is Daredevil Melvin Potters's only client?
Matt Murdock is one lucky "devil"—he's got a go-to guy for all these suit improvements. In the first season, when Melvin (Matt Gerald) was under Wilson Fisk's (Vincent D'Onofrio) thumb, it made sense that the Kingpin was bankrolling the designer. But now that Fisk's in jail…how does Melvin still have an endless amount of resources? Where is Melvin Potter getting his supply of expensive, high-tech materials for Daredevil's suits?
Was Wilson Fisk's steak dinner ordered from Seamless?
Taking down the only other competition for top dog does have its perks: like eating a restaurant-quality meal alone in the comfort of his own solitary jail cell, with "bodyguards" on watch. Guess certain standards still have to be kept up, even in prison. But really, how did Fisk secure a gourmet chef on call, or did someone order his meal from Seamless?
Does Madame Gao have any other hobbies besides painting cherry blossoms?
In addition to "drug dealing, money laundering and slavery" (Daredevil's words), who knew Madame Gao (Wai Ching Ho) would have such a normal hobby like painting cherry blossoms? Guess it's good to have a diverse portfolio when you practically run Chinatown and used to work for Wilson Fisk.
Could Frank Castle really have drawn The Punisher symbol freehand?
Looks like The Punisher (Jon Bernthal) should challenge Madame Gao to a paint-off. The fact that he can spray paint a creepy skull onto a bulletproof vest without a stencil is pretty amazing. Guy's got skills.
How did Elektra still manage to look so fresh after being buried six feet under?
Okay, so she was probably dug up by The Hand very soon after being buried, but doesn't she look like a dewy Sleeping Beauty? The drained blood of zombie-like victims really does wonders for the skin. Unless someone had GLAMSQUAD on speed dial for some off-hours mortician services.
Will Foggy be working to defend Jessica Jones?
Hey, it's Jeri Hogarth! She's certainly bounced back from all the crazy stuff that went down in Jessica Jones. And she managed to woo Foggy over to the Dark Side (aka. a high-paid law position). Will we get to see Foggy in court defending Jessica Jones (Krysten Ritter)?
Seriously, why didn't Karen realize that Daredevil was obviously Matt?
As an aspiring reporter, Karen probably should have realized all of Matt's cuts, bruises, etc., plus Daredevil touching her face, meant they were one and the same person. We really thought Karen would have an "ah ha" moment…and be less surprised when Matt confessed to her. Finally.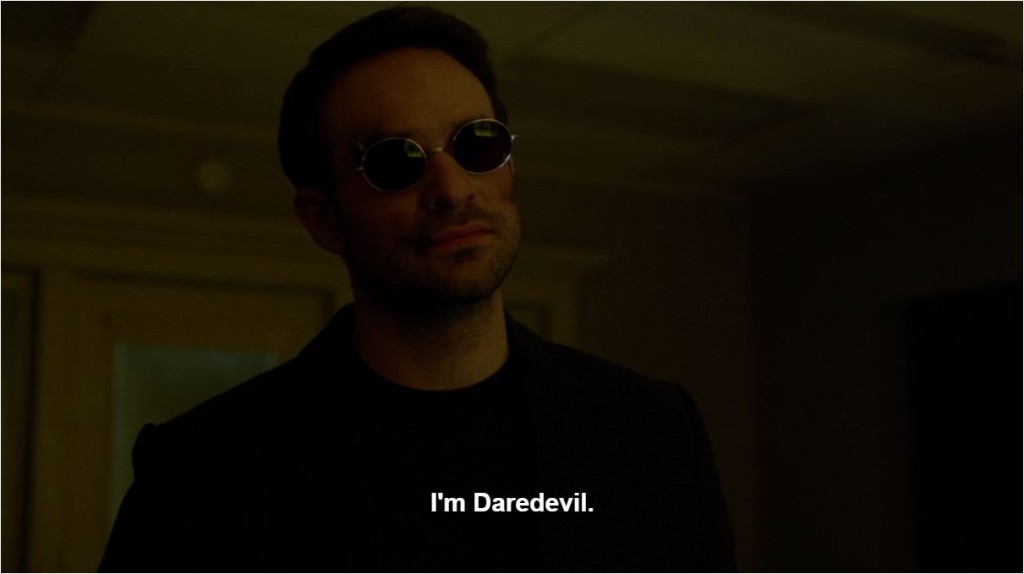 So…will Matt keep running Nelson and Murdock?
Now that Foggy's making a six-figure salary and Karen's trying to strengthen her sleuthing skills, how will Matt fill all those daylight hours by himself? His law firm tanked, but he still has to eat somehow—or else he'd be the weakest crimefighter ever.
Tell us: what questions did you have watching Season 2 of Daredevil?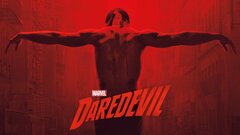 Powered by