'Harlots' EP on 'Game of Thrones' Star Alfie Allen's Season 3 Role and More
Lust, mayhem and murder rule Harlots, a lush drama about two 18th-century London madams warring for customers.
The Season 3 premiere picks up a year after the Season 2 finale, when the feuding brothel owners fell from power.
Lower-class Margaret Wells (Samantha Morton), sentenced to hang after falsely confessing to murder in order to protect her guilty daughter, was secretly spared the noose by a sympathetic executioner and shipped off to America in chains as a servant. Heartless Lydia Quigley (Lesley Manville) was committed to a mental institution by her bumbling son, who wanted to control her fortune.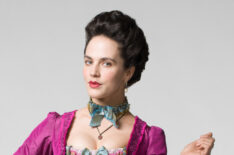 See Also
The head of makeup and costume designer break down Jessica Brown Findlay's on-screen persona.
Stepping into the power void are Margaret's ambitious daughters. Sassy eldest Charlotte (Jessica Brown Findlay) now runs mom's brothel. Youngest Lucy (Eloise Smyth) — whose hesitant entrance to the family biz included the fateful stabbing of a lord that sent her mom away — buys Lydia's former home, luxurious Golden Square, to turn it into a "molly house" (a male brothel).
Making trouble: newly arrived pimps the Pincher brothers, bold Isaac (Game of Thrones' Alfie Allen) and strategic Hal (Ash Hunter). "Charlotte likes Isaac immediately when he comes to her bawdy house because he's from the streets, like her," cocreator and executive producer Moira Buffini says. "But he makes the mistake of duping her. Charlotte won't take being duped, so the battle is on."
Harlots, Season 3 Premiere, Wednesday, July 10, Hulu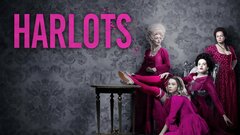 Harlots
where to stream
Powered by