5 Reasons You Need to Start Watching 'Saints & Sinners'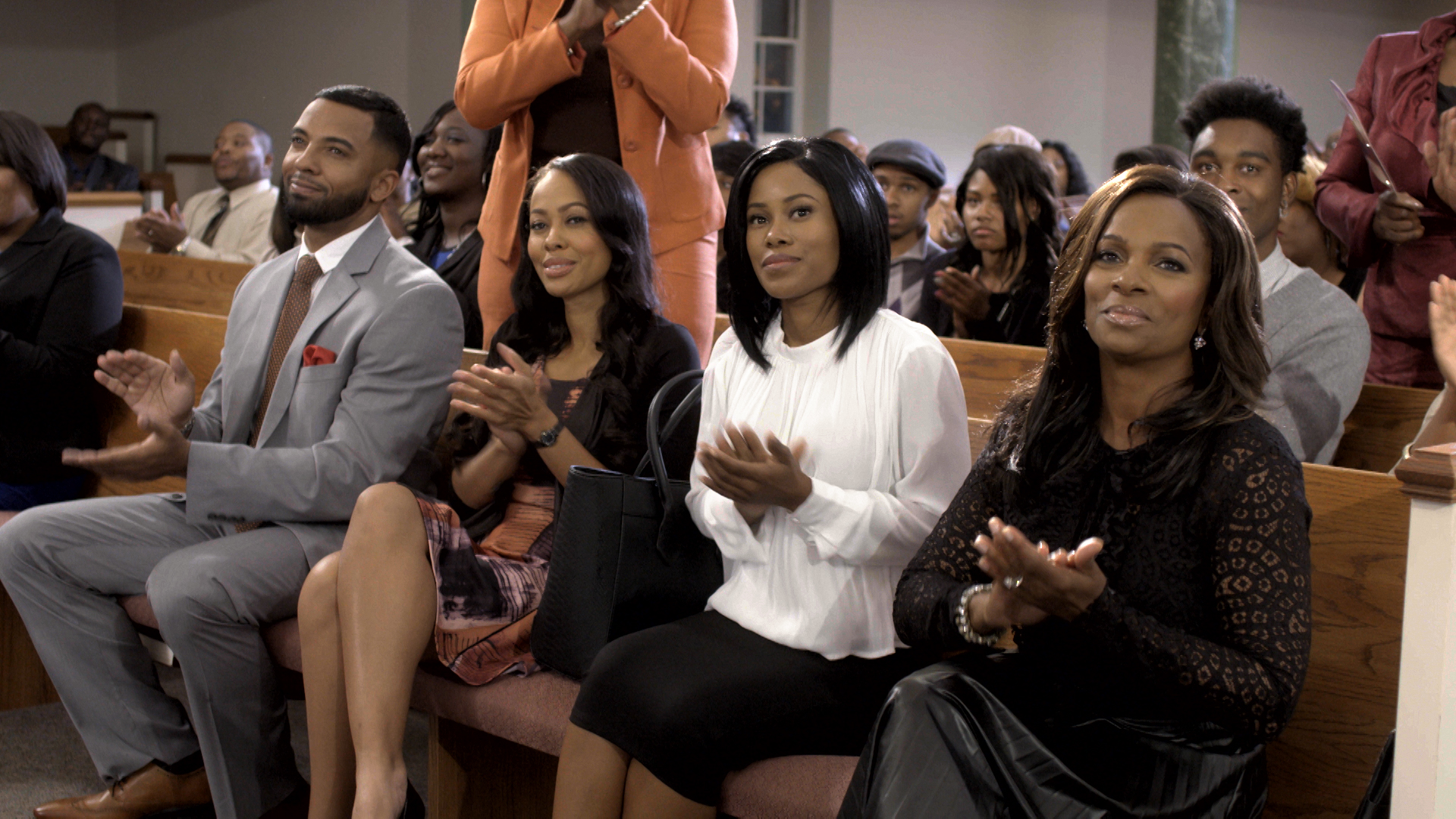 Will the pursuit of power be the demise of Greater Hope Baptist Church?
That's the crux of Saints & Sinners, Bounce TV's new drama series. Greater Hope, under the direction of Pastor Evan Johnson (Richard Lawson), has long been an influential pillar within the community, but when the center of saints is corrupted by sin (lust, greed, murder), the church begins to crumble under its secrets.
We caught up with Vanessa Bell Calloway (Shameless) who stars as Lady Ella, the pastor's wife, to learn more about the series. Here are the five reasons why you should tune into the Sunday night drama.
There is a strong female lead. In fact, all the women play powerful roles.
Speaking about Lady Ella, the actress shares, "Although my [character's] husband is the pastor of the church, and my father ran the church before him, she is a very prevalent member. She's not just the wife who sits in the shadows of her husband and has a new hat on every Sunday." Instead, Lady Ella takes no prisoners and is a force to be reckoned with. "She's the first lady, but she wears a lot of different masks. She's a city councilwoman, a mother, a wife, a community activist, a politician, and she helps to run the church." In addition to Lady Ella, other women in the church are also front and center. "When I read the pilot I was like, yeah sign me up. Not only because of my character, but [because] the other women in the show are strong. I like the way women were portrayed," says Bell Calloway. "Gloria Reuben plays the mayor and her character is very strong. My daughter Jasmine Burke is a physician; she's strong. [There] aren't weak women who are just eye pieces."
The series will have shades of Empire-esque drama…
Since Saints & Sinners is taking us to church, there will be no shortage of saintly singing and sinning storylines. In fact, some of the top artists in the gospel and R&B genre will be integrated into the show, including a member of the Grammy award-winning duo Mary Mary. "Boy do we have some singing!," Bell Calloway reveals. "We have Erica Campbell (Mary Mary) who's guest starring. Kelly Price reoccurs. We have Deitrick Haddon, and Keith Robinson (who plays Keith Calloway on the show) himself, sings." And when it comes to the stories, there will be plenty to tweet about. "On Twitter, somebody who didn't like that we found out that [Lady Ella] and the mayor have a little thing going on. Some people loved it, some people got it, some people were like, 'Oh god.'" The actress is okay with controversy, though, if it gets viewers talking. "If you love REAL drama then you'll love Saint & Sinners. It's multi-layered," notes the actress. "It was fun to see just how much trouble everyone was in and to find out just how shifty some people were…to find out how shifty I was!"
…But the show will explore real life issues.
Yes, there will be drama, but it will be drama inspired by real life. "You need it! It's life! We aren't making any comments on any church or any first lady or any pastor or any town in particular—it's all drama," Bell Calloway explains. "But we do have to pull from real life issues to make an interesting story. There's all kind of people in this world, and Lady Ella is not exempt from being a lot of different things at one time." In spite of the drama, viewers can relate to how relationships are depicted. "My [character's] energy with the pastor, I like that we started out in a rocky relationship. I thought that was great because we've been married a long time and it's a real couple. They have issues and there are secrets they keep from each other."
[jwplatform qM2HcTtj]
There will be plenty of cast chemistry to keep you hooked.
"The nice thing is everybody had worked together; we all kind of knew each other so when we all got together," says the actress, who's worked with Clifton Powell (Rex)—"one of the best bad guys in Hollywood"—and Christian Keyes (Levi), Keith Robinson (Miles). "Everybody owns their character. Sometimes people try to be like another character and the lines get blurred, but everybody was very defined and everybody really knew who they were and what their goals and target ambitions were, which made for good acting because we all had our agenda."
Expect many "wickedly devilishly delicious" moments—like slapping!
"Tune in, because everything is not as it looks. Everybody is not as nice as it looks," teases Bell Calloway. "Everybody has an agenda that often doesn't go along with the other people's agendas, and no one is taking prisoners. There's a lot ready to jump off and its pure entertainment." And don't expect slapping to be off the table! The actress recalls a moment when Lady Ella slapped her husband. "Everybody was loving that on Twitter. They even made up little slap things, where they had me slapping him five times in a row—just slap, slap! [Laughs]"
OUCH! @nessabcalloway @RichardLawson #saintsandsinners pic.twitter.com/axUmZI3mnX

— Bounce TV (@bouncetv) March 7, 2016
Saints & Sinners, Sundays, 9/8c, Bounce TV