'Extra Virgin Americana's Debi Mazar and Gabriele Corcos Eat Their Way Across the Country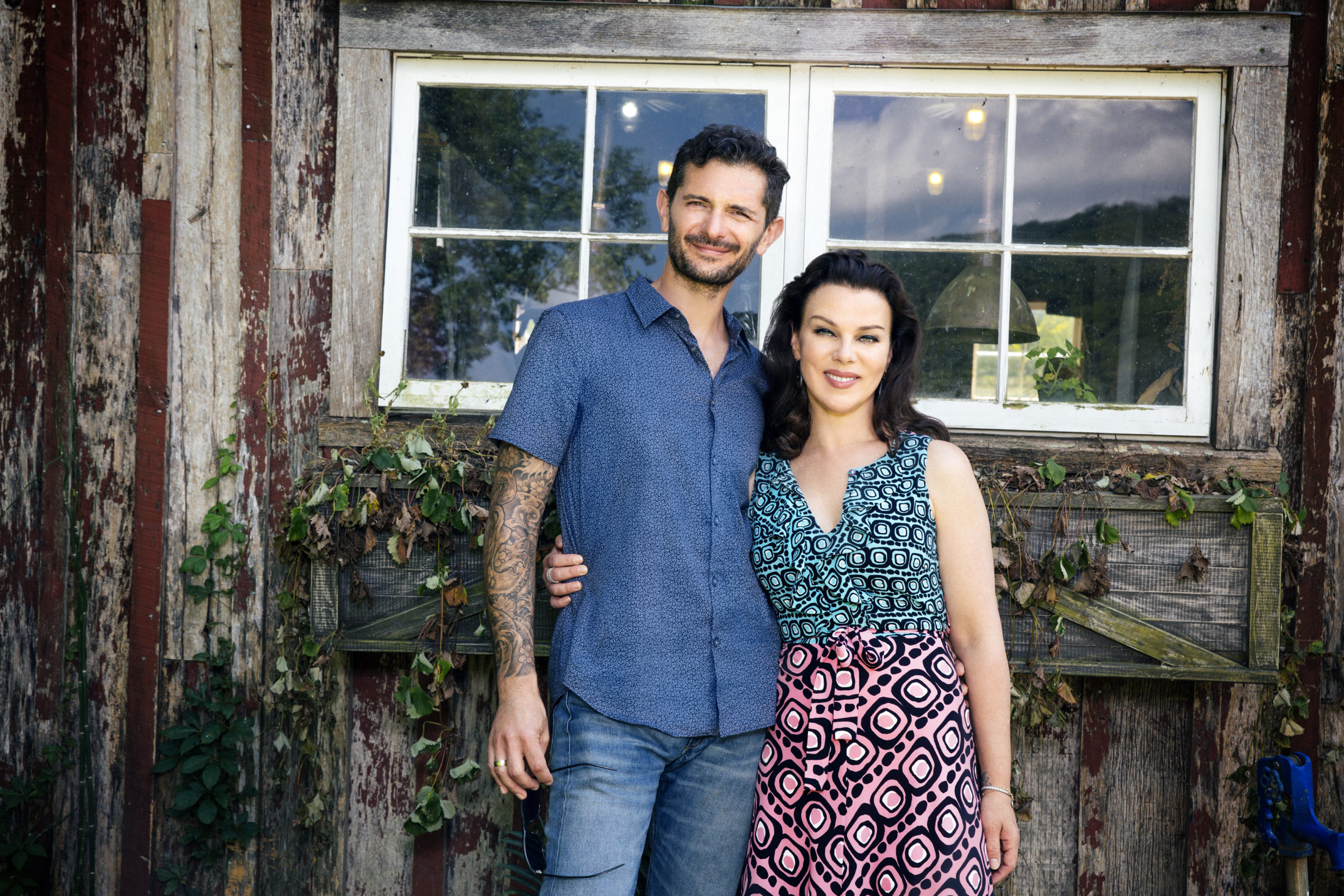 They helped put Cooking Channel on the map in 2011 with their lusty, Tuscany-based food show Extra Virgin. Now actress Debi Mazar (Younger, Entourage) and her Italian chef hubby, Gabriele Corcos, are back in the U.S.A. with Extra Virgin Americana, premiering Wednesday, March 2 (9/8c). Did they get their kicks on Route 66?
Your show was so wildly Italian. What's with the change in locales?
Mazar: After five seasons, the network wanted to shake things up and have us travel the United States with our daughters, cooking with the locals, checking out the customs and discovering real American traditions. We should know all about our own country, right? I'm one of those native New Yorkers who has yet to get to the top of the Statue of Liberty. So this is huge for me.
Corcos: We do the Grand Canyon, the Smoky Mountains, Seattle, Napa Valley, Detroit, Cape Cod. We're like pinballs! I never knew I had a bucket list until this season.
Mazar: We've taken our girls to Italy so many times they're bored with it. They take it for granted. This was a chance to treat them to a real adventure. Our country is so big, so magnificent. You especially feel it in Texas and at the Grand Canyon. It's good to feel small once in a while, like a tiny particle on this earth.
Corcos: It really puts your life in perspective.
Mazar: Our cities and cities are so fascinating, too. We drove through all these timeless little podunk spots in the South that are straight out of a Tennessee Williams play—so beautiful and charming that your jaw drops! In Detroit, the Motor City, the roads are strikingly well maintained, yet the city looks like a bomb hit it. It was great to hang and cook and eat with the people who are trying to rebuild that city.
Corcos: Our whole country seems so nuts right now. It's good to get out there and see how incredible and kind the people really are.
Mazar: It makes me proud to be an American.
But don't you have much better meat and produce in Italy? Are you settling for less than the best by cooking here?
Mazar: Everything is better in Italy. The dairy, the vegetables, the bread.
Corcos: Not true, and I'm from Tuscany! When food is grown with love and in the right environment, it's always good. I am able to find everything I want in America and it's fantastic. We visit an urban farm in Phoenix where the taste and freshness of the food is every bit what I can find in my homeland. And nothing tops an American barbecue!
Wasn't Extra Virgin kind of an accident?
Mazar: Total accident. We never planned any of this. We put some cooking videos up on YouTube…
Corcos: …back when YouTube was brand new, and it just took off. It was done just for fun, to share with a few people. The growth was just amazing.
Mazar: This show is everything I love doing: Eating and watching my husband in the kitchen. It's very cool to still be with Cooking Channel as they figure out their new, groovy direction. Whether we do more seasons in America or go back to Italy, it's a dream job.
You also run a restaurant in Brooklyn called The Tuscan Gun. How's that going?
Corcos: Great, but it's not really a restaurant.
Mazar: Whaaat? Yes it is! It's open for lunch and dinner seven days a week. OK, it's a café. It only seats 23.
Corcos: We're like the Italian family in those old-school American movies that lives above the restaurant, only we live down the block.
Mazar: We take care of all our regulars from the 'hood. We give food to the schools. It's a real community effort.
Corcos: I grew up on a farm where my community was my dog, my cat and some sheep. To have people walk by and wave through the window is heaven.
Mazar: And when I pop in, we do our Lucy and Ricky routine. It makes everybody happy!
---
Debi and Gabriele's Ricotta Pancakes
Ingredients
4 large eggs, separated
1 ½ cups whole milk ricotta cheese
1 tablespoon sugar
Grated zest of ½ lemon
Pinch of kosher salt
½ cup all-purpose flour
Unsalted butter, for greasing the griddle
Maple syrup, for serving
Directions: Heat a nonstick griddle over medium-high heat. In a large bowl, mix together the egg yolks, ricotta, sugar, lemon zest, salt and flour until thoroughly combined. In a separate bowl, beat the egg whites until stiff peaks form. Fold the whites into the ricotta in one-third amounts, mixing gently to maintain as much volume as possible. Grease the hot griddle with butter. For each pancake, ladle ½ cup pancake batter onto the griddle and cook for 2 minutes per side, until golden and crisp on the edges. Serve pancakes with maple syrup.
https://www.youtube.com/watch?v=qcFxAugTWN8