This New 'Outlander' Art Teases the Gorgeous Art of War (PHOTO)
Sun Tzu might have cornered the art of war, but looks like the Frasers have cornered the etiquette of war.
With Outlander's return date getting closer than ever, Starz released new key art to tease the grandeur and excess of Season 2. Claire (Caitriona Balfe) and Jamie (Sam Heughan) have traded the lush green hills of Scotland for the lush gold courts of King Louis XV, in order to infiltrate high society and stop an attack on the highlands that will destroy Scottish life.
PHOTOS: 7 Romantic Outlander Scenes from Season 2
In the photo below, Claire and Jamie are having a Marie Antoinette-esque feast (or is it their Last Supper?) while surrounded by influential people of the Parisian court who they may not be able to trust. Some key players include, from left to right, Mary Hawkins with a fan (Rosie Day), King Louis XV in champagne silk (Lionel Lingelser), Louise de Rohan with a diamond necklace (Claire Sermonne), Murtagh in somber blue (Duncan Lacroix), Le Comte St Germain in purple (Stanley Weber) and Prince Charles Stuart in bronze (Andrew Gower).
But to prevent the Jacobite rebellion that leads to the Battle of Culloden, the couple must do more than sit pretty in order to save lives. They must stick together and bring their A-game to fight a brewing war with words (through flattery, deception, manipulation)—instead of weapons.
Outlander, Season premiere, Saturday, April 9, 9/8c, Starz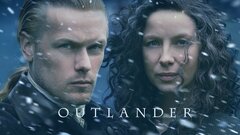 Powered by