'Arrow' Sneak Peek: A Serial Killer Targets the Team (VIDEO)
If they thought that vigilante-hunting-vigilante Chimera was a handful, just wait until Team Arrow gets a load of their latest hater.
For the past few weeks, those close to Oliver (Stephen Amell) have been receiving random, ominous threats, all of which seemed to have been connected to last week's villain. But in this week's episode, "The Star City Slayer," Dinah (Juliana Harkavy), Rene (Rick Gonzalez) and company realize that the now-captured Chimera isn't be the one they need to be worried about when it becomes clear a serial killer is on the loose. And that he or she may want them all dead.
See Also
Will 'DC's Legends of Tomorrow' be a part of the event?
In this exclusive clip from the hour, the crew — now united as SCPD employees — discusses what sounds like the very graphic murder of that shady Councilman Collins who was aiding Diaz last season. In addition, it seems that several of them may want to watch their backs after leaving the station.
It should be noted that in the comics, the Star City Slayer was revealed to be Stanley Dover, an occult killer who wanted to transfer his own soul into Oliver's body. But seeing how they've mostly left the magical stuff back in Season 4, this one probably isn't gonna require any calls to Constantine over on Legends.
Could this all be connected to that eerie comment Mia (Katherine McNamara) made in the future about vigilantes getting what they deserved last week?
Arrow, Mondays, 9/8c, The CW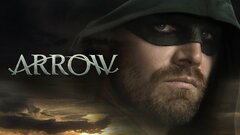 Arrow
where to stream
Powered by