Social Media Music Sensation Ruby Jay on Playing Hulu's 'Holly Hobbie'
On Friday, Nov. 16, Hulu introduces a new generation to a beloved character in its new tween drama Holly Hobbie.
But the classic character has grown from the bonnet-wearing girl popularized on late 1960s greeting cards to a small-town singer/songwriter with dreams of saving the world.
See Also
You've seen them on shows like 'Sharp Objects,' 'The Handmaid's Tale,' 'This Is Us,' and more.
We caught up with 13-year-old internet star Ruby Jay, who stars in the series as the music-loving titular character. Ruby reveals that she loves singing all of Holly's songs and that she's excited to share her fresh take on the familiar calico-wearing character.
Here, Jay introduces us to herself—and to Holly.
In the new series, who is Holly Hobbie?
Ruby Jay: Holly is a 13-year-old singer/songwriter who wants to make a change in the world. She, is smart and fierce, but not perfect.
She hangs out with her best friend, Amy, and then this new girl comes in and her name is Piper, and there is some situations that happen between that with friend problems. There's also family miscommunications, which I feel like a lot of people experience. She hangs out with pretty much everyone in the town. It's a really small community.
This series is definitely a new re-envisioning of a character. What did you know about Holly Hobbie before you landed the role?
My grandma actually had a bunch of Holly Hobbie things, so I knew what she looked like, but I didn't really know the background of Holly Hobbie. So when I got the audition, I went and looked everything up so I knew what it was. And then when I booked the character, I went into more depth looking at the character.
What makes Holly timeless?
Holly is a very relatable character; therefore, I think she has stood the test of time. And she feels like a regular kid, and there are times when Holly lets her emotions get the better of her. And I love that the show doesn't make her perfect, 24/7.
Most people, when they think of Holly Hobbie, picture the vintage water color-like girl in a big, blue bonnet. How has this character been re-imagined for modern audiences?
She's a small town girl. She lives in Collinsville, and she prefers to wear vintage clothes and combat boots over anything else, Basically, if you take the Holly Hobbie character and make it modern, I don't know how else to explain it. She's basically the same thing, just more up to date.
So no bonnets?
I don't know … maybe. [laughs]
Ooh! I love that. So in the show, your character is a singer/songwriter and you're a singer and performer yourself, so what kind of songs does Holly write and what do you feel about singing them?
Holly uses her music to express herself. That's how the show shows her emotions, because she's doesn't really know how to portray them sometimes. Her style I would say is like a young Taylor Swift — from her first and second albums.
I love performing the songs. I think they're amazing. When I was recording the songs in Los Angeles before we moved to Toronto to shoot the series, being able to stand in the studio and record the songs was like my first taste of actually portraying the character, so that was cool.
What are you excited for your fans to see in Holly Hobbie?
Honestly, I'm excited for them to see the show itself. I think that it's such an amazing show because it shows that there are issues it shows how to not only overcome or divide them, but also to fix them and have it not happen again.
See Also
Looking at the up-and-coming actress' best small-screen moments of 2018.
The role required you to dye you hair red. What was that like?
They told me they were going to lighten my hair, and I was thinking they're going to do highlights or something. And then I got in the chair and they started dying it, and then I had never dyed my hair before, so I didn't know what it was supposed to look like. And then they washed it out of my hair and dried my hair, and I was like, "That is not highlights!"
So what do you think of life as a redhead?
I think it's really cool. My dad's entire side of the family is red, so when I came out of the chair, he had literally jumped out of the chair and went, "I got a redhead! I got a redhead!"
What was something funny that happened on set?
One of my favorite moments was about two or three weeks into shooting and Hunter Dillon, the guy who plays Tyler Flaherty, figured that out that I'm a really easy person to scare, so he started scaring me left and right.
I decided that I was going to get him back. So I talked to Saara [Chaudry] and Kamaia [Fairburn] and we came up with a plan. During lunch two or three days later, asked the A.D. to tell Hunter that he needs to go up to his room and change his outfit for the next scene.
So we went upstairs and we hid in the wardrobe closet, and when he came upstairs and he opened the closet and we jumped out at him! You should have seen the shock of horror on his face. He was not expecting it whatsoever. It was amazing. And the best part is, we got it recorded.
How did you get involved in music?
I've been doing musical theater ever since I was like three, four, I think somewhere around that age I started getting into the performing arts. When I was 10, I wanted to start getting into the acting business, then I started posting singing videos on social media.
One of my biggest covers is "Thrift Shop" by Macklemore. I was like sitting in the car one day and I started singing it and my mom was like, "Oh my god, that's so cool, I'm going to record it." And I was like, "Okay, give me some dollar bills and I'll throw them at you."
And so we recorded it, and I got all the lyrics wrong. I literally said none of the lyrics right, but that tends to kind of be my thing, honestly. And we posted it and everyone — I don't know, it kind of like went from there.
What other singers in the industry inspire you as a musician?

I really look up to Ariana Grande and Hailee Steinfeld. Their music isn't related in like any way, but I feel like a perfect mix of both of those is my style, and they're both actors who've become singers.
You've done some fun online collaborations, who's on your collaboration wish list?
Ariana Grande and Hailee Steinfield, for obvious reasons. Lewis Blissett—he just started singing on his Instagram and I think he's an amazing singer—so I would like to collaborate with him. Jesse J—that would be amazing, and Christina Aguilera.
See Also
These small-screen stars are seriously connected.
What else are you working on?
Currently, I'm working on a lot of original music. I just released my song, Cherry Pop. And I have a couple songs that I'm almost done with. I have to do the videos for them now, but they'll be coming out soon. I promise.
Holly Hobbie, Series Premiere, Friday, November 16, Hulu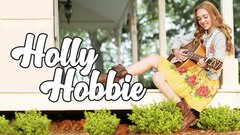 Powered by