'Walking Dead' Stars Cut New Deals Following Andrew Lincoln's Series Departure
After the long-awaited Rick Grimes (Andrew Lincoln) departure was revealed on The Walking Dead Sunday night, viewers must to be pleased to know that he hasn't completely exited the franchise.
Shortly after the reveal, it was announced that Lincoln's Rick would return to the iconic role in a series of films to be released on AMC. And now, fans have something even more exciting to celebrate: Stars Danai Gurira, Norman Reedus, and Melissa McBride are all planning to stay with the franchise for the foreseeable future.
See Also
With the mystery surrounding Rick's departure lifted, we look back at what made him such a great protagonist.
Series originals Reedus and McBride have reportedly signed three-year franchise deals that would see them stay in The Walking Dead universe whether it's on the original show or any of its existing or future shoot-offs, The Hollywood Reporter details. This news should serve as a relief for OG fans — Reedus and McBride are the only remaining stars who have been with the show since its 2010 beginnings.
Meanwhile, Gurira is said to still be negotiating a deal but will reportedly cut a similar one to Reedus and McBride. As Rick's love interest, badass Michonne, Gurira's presence would help steer the show after Lincoln's exit. It'll also give her the opportunity to explore more places in the universe.
Considering Gurira's escalating star-power — she became a bigger household name with her role in Marvel's Black Panther film — there is potential for a longer negotiation process. The expansion of the series is being overseen by Scott M. Gimple, AMC's chief content officer.
"The deals that we made for Norman and Melissa are franchise deals. Our deals with Norman and Melissa allow us the flexibility to either move them or use them in more than one place, depending on what seems creatively right to Scott and to his partners," David Madden, AMC's programming president said.
See Also
It's clear that Rick's time has reached its end; but first, 'The Walking Dead' wants to celebrate his life.
"We do look at this as a universe where we're trying to expand into as many different places as the show fits," Madden continued. "We think this is a franchise that could live across formats. So, we want to do it carefully; we want to be strategic; we want to try to do it right. But there is a multi-year plan that could include additional series, digital content and specials."
While those deals for McBride and Reedus are solidified at this point, Madden said of Gurira, "She has been very vocal about saying that she loves the show. We love Danai; we love that character. Right now, she's got a lot of opportunities and she needs to weigh what she feels is best for her. But we certainly would want her on the show as long as she wants to be on it."
"The goal is to have Danai continue on whatever basis she can make work, given the other things that she has going on in her life," Madden concluded.
With his three-year deal with the series and AMC's other series Ride With Norman Reedus, Reedus is expected to earn between $50 million and $90 million. McBride is expected to earn $20 million over three years.
The Walking Dead, Sundays, 9/8c, AMC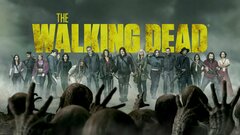 Powered by