The Verdict Is In: TV Judges Are Hotter Than Ever
Call it must-see gavel TV — courtroom shows are ruling the daytime ratings. The long-running syndicated hits Judge Judy (23 seasons), Judge Mathis (20 seasons) and Hot Bench (the newcomer, now in its fifth season) have enjoyed a recent spike in viewership, building on their already strong numbers. So what's their secret for hanging on to loyal fans while also attracting new ones?
See Also
A real judge has ruled on Judy Sheindlin's income from her CBS syndicated court show.
One main reason the genre stays arrestingly fresh — despite sticking to the same basic formula — is because the litigants' issues are constantly changing. "We stay current by following what's happening in culture," says Bo Banks, a longtime executive producer for Judge Mathis. "People used to bring in answering machine tapes as evidence. Today it's text messages. Over the past couple years, we've started doing paternity tests on our show and found that's something people like."
According to Michael Corriero, one of the three judges sitting on Hot Bench's current panel, another big draw is the authentic, anything-can-happen nature of the proceedings. While many so-called reality shows come across as overly produced, the drama unfolding in the courtroom is legit, and with binding consequences. "We don't know what the final result is going to be going in, and we're not scripted," says Corriero. "Our interactions with the litigants are spontaneous, and sometimes when we have to probe or cross-examine them to get to the heart of the matter, it gets provocative."
Beyond all that, there's the undeniable comfort factor. As the media landscape gets increasingly crowded, court TV provides an appealing open-and-shut approach: an easy, entertaining fix.
"The No. 1 thing courtroom shows do is offer immediate resolution," Banks confirms. And when the audience votes with their remotes, industry bigwigs take notice.
See Also
The judges from the Judy Sheindlin-created show give us the scoop.
"Broadcasters have been showing a strategic push toward reinvesting in and promoting the old standbys that deliver for them year after year," says Peter Hamilton, a veteran media analyst and the founder of DocumentaryBusiness.com. "They're realizing the strength of refocusing on the basics." Case closed!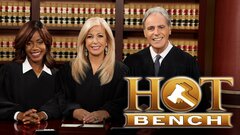 Powered by