Kurt Russell Is a Hip New Santa in Netflix's 'The Christmas Chronicles'
Do we have a Christmas cracker for you: Kurt Russell — yes, Escape From New York/The Thing/Overboard Kurt Russell— is playing Santa Claus in Home Alone director Chris Columbus's latest take on the holidays, The Christmas Chronicles (helmed by longtime Disney animator Clay Kaytis). So, as you can guess, this isn't a film about your regular ol' Saint Nick.
Russell's Kris Kringle wears a gold initial necklace. He's a bit thinner than the usual tubby tinsel-time gift giver (even the salt-and-pepper beard is kind of sexy). He dashes in and out of houses at the speed of light. And he's got a brand-new bag: Literally, there's a scene in which he performs James Brown's "Papa's Got a Brand New Bag" onstage with jazzy saxophone accompaniment. For a 67-year-old, Russell has moves.
Alas, his Claus also has problems. After two siblings try to catch him on camera by sneaking onto his sleigh, they cause a crash that could prevent even the fastest Santa from making it to each chimney on time. But you just know Father Christmas is going to come through!
The Christmas Chronicles, Movie Premiere, Thursday, Nov. 22, Netflix
Craving More Kurt? Here Are Other Movies To Stream:
Miracle
Russell hits the ice as real hockey coach Herb Brooks in a feel-good 2004 flick that sees the U.S. Olympians beating the favored Soviets in 1980.
The Hateful Eight
In team-up No. 2 with director Quentin Tarantino, Russell is a 19th-century bounty hunter who waits out a storm in a haberdashery. The 2015 Western has the expected savage and foul-mouthed outcome.
Poseidon
Russell portrays a dad who leads a ragtag group of survivors to safety after a rogue wave flips over their cruise ship in this 2006 remake of the 1970s classic.
Guardians of the Galaxy, Vol. 2
Ideal casting: Russell joins the sci-fi franchise (briefly) as the long-lost alien father of Chris Pratt's groovy space mercenary, Star-Lord, in this 2017 sequel.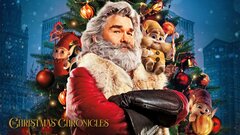 Powered by