'The Alec Baldwin Show': Baldwin's New Gig Has an Old-School Feel
Alec Baldwin's new ABC series, The Alec Baldwin Show, takes a decidedly old-school approach to the chat show category by doing something that's been lacking in the genre for quite some time — talking.
Unlike modern late-night or talk shows that rely on skits and gimmicks, Baldwin proposes a more cerebral and conversation-centric series in the vein of The Dick Cavett Show and Tom Snyder's The Tomorrow Show.
See Also
Plus, why the show will change the face of TV.
"It's a unique opportunity to do a thoughtful, smart talk show, without a lot of bells and whistles," says executive producer Jason Schrift. "It's less of an interview, and more of eavesdropping on a conversation."
The series — originally called Sundays With Alec Baldwin — had a test run in March in the post-Oscars time slot, where Baldwin interviewed comedian Jerry Seinfeld and SNL standout Kate McKinnon and tackled topics ranging from their careers and shared histories to cufflinks and the #MeToo movement.
"Alec's a curious guy, and he really brings it out in people with the way we shoot the show," says Schrift. "It's one where he's able to just do a long, deep dive. We don't interrupt him; we don't give him commercial breaks. He's able to really just talk and extract whatever he can."
See Also
But don't let the pastel colors fool you: daytime TV can be a cutthroat playing field.
The approach to the series is high-brow and low-tech. Schrift explains, "We keep our cameras far back. There is no audience on the show. When the guest is brought out on the stage, that's exactly when the show starts. So there's no stage manager saying 'action' or no one coming over the loudspeaker. It is how a conversation would start in normal life, except with a microphone."
For Baldwin's premiere episode, he'll welcome Robert De Niro and Taraji P. Henson (pictured at top) to his show. His second episode will feature an hour-long conversation with Kim Kardashian. Each episode is pre-taped, so it'll be interesting to see which topics are—and aren't—covered.
Baldwin is no stranger to taking the reins on a talk show; he's stepped in as a guest host on several series, and even hosted his own short-lived late-night show on MSNBC, but the impetus for The Alec Baldwin Show comes from the podcast Here's the Thing With Alec Baldwin, which he's hosted since 2011.
Schrift is a fan of the podcast and shares, "I started to just listen to it even for people that I wouldn't be interested in. The head of sanitation for New York City doesn't look great in a listing, but all of a sudden, I got sucked in and Alec made it very interesting."
See Also
It will premiere in Fall 2019 on ABC syndicated stations.
Baldwin's outspokenness is guaranteed to keep him in the spotlight and a topic of watercooler conversations. Earlier this week, Baldwin made controversial comments to the Hollywood Reporter when he said, "I don't know how to say this and I don't want to get it wrong either, because everything is a minefield of bombs going off, but ever since I played Trump, black people love me."
The story was published on Oct. 10, and led to a social media backlash. But considering that Baldwin is in full promo mode, and no press is bad press, this might be a clever ploy to position The Alec Baldwin Show as something provocative and worth checking out.
The Alec Baldwin Show, Sundays at 10/9c, beginning Oct. 14, ABC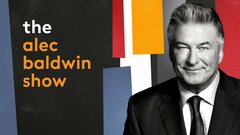 Powered by