Denise Richards Returns to Scripted TV With Series Regular Role on 'Paper Empire'
Former Bond girl Denise Richards (The World Is Not Enough; The Real Housewives of Beverly Hills) joins former Bond villain Robert Davi (Licence to Kill) in Paper Empire, a new TV series set against the frenetic world of high finance and epic schemes.
Richards portrays the character of Bentley Fintch, described as "the fetching wife of billionaire money manager Laurence Fintch (Davi), who has created the world's largest Ponzi scheme."
See Also
The 'Wild Things' and 'The World is Not Enough' actress is headed to reality TV.
After Laurence is arrested, Bentley soon realizes the lost billions may not be gone after all – they may merely be hidden.
The series doesn't have a network or streaming home yet, but principal photography for Paper Empire is currently taking place now in South Florida.
The cast also includes Steve Guttenberg (Roe v Wade), Michael Nouri (Flashdance), Timothy Gibbs (One Life to Live), Robert Knepper (Transporter 3), Chuck Zito (Homefront), William McNamara (The Trouble With Billy), Elisabetta Fantone (Big Eyes), and Helena Mattsson (Iron Man 2).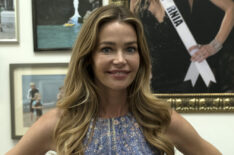 See Also
She's back to her pageant queen roots in this guest-starring role.
Paper Empire is a production of Inner Circle Films in association with Tadross Media Group and Robert Gillings Productions.
Michael Tadross Jr. (LBJ) serves as executive producer and Bernard Salzman (Capone: The Man Who Too Much) serves as producer and Robert Gillings (American Fright Fest) is the writer and director of Paper Empire.