'SEAL Team' Star David Boreanaz Says Jason Will 'Consider Leaving the Team'
The bonds among tough, loyal SEAL Team leader Jason Hayes (David Boreanaz), his unit and his family are unbreakable — until something terrible happens to make Jason come unglued.
"It drives him to consider leaving the team," Boreanaz says of the action-packed two-part story that starts October 24 and continues next week in SEAL Team. "He's been striving to keep them together, but then everything falls on top of him." Read on for more explosive developments.
See Also
The actor also teases whether the team need to call for backup next week.
• The elite military unit heads to Mumbai, India's largest city, where terrorists have infiltrated several locations. Bravo Team works a hostage rescue operation at a large luxury hotel — and there's a life-threatening twist. (The siege is reminiscent of the real-life 2008 attacks in Mumbai, with targets that included the Taj Mahal Palace Hotel.)
• Emotions get the best of the usually restrained Jason — and the fists fly. "As an actor, I tapped into things that are pretty dark and raw. It's scary to go to those places," Boreanaz says. "On set I'm usually very 'Hey, we're having fun!' But I had to block everything else out. It was tough on the crew and cast. That was the hardest thing to do."
• Jason's relationship with SEAL Team No. 2 Ray (Neil Brown Jr.) was tested when Ray lied about an injury at the close of Season 1, but Jason's current crisis brings them together. "When all the s–t hits the fan, Ray is a backbone to Jason," Boreanaz says. "He's there to say, 'I'm here for you. What's really happening?' Ray is a solid force. He can even make Jason laugh here and there."
• After what happens, Jason's family means more to him than ever. "[CIA analyst] Mandy [Jessica Paré] and the team are on his back, but he wants them to step off," Boreanaz says. "He's gone through too much that he needs to process. If he gets validation from his family, he's good. Still, Jason might unravel a bit more. He's going to do things that are more dangerous."
SEAL Team, Wednesdays, 9/8c, CBS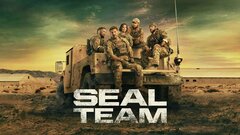 Powered by