'The Flash' Revealed Several Earth-2 Shocks That Could Change the Future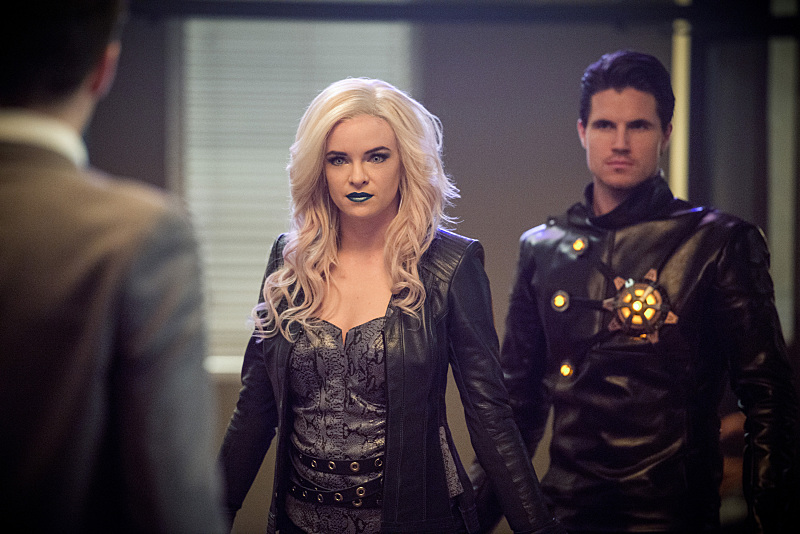 Spoiler alert! Do not read further if you haven't watched the most recent episode, "Welcome to Earth-2," of The Flash.
Barry Allen (Grant Gustin) made his way to Earth-2 in tonight's hour of The Flash, but nothing could prepare him for what he found there.
When he took the place of Earth-2 Barry—in an attempt to get more info on Zoom in the limited window he had—he was shocked to discover that he was married to Iris (Candice Patton), and Joe (Jesse L. Martin) hated him. (Also on Earth-2, Barry's mother was never murdered, which led him to share an emotional call with her while masquerading as his doppelgänger.)
But perhaps the biggest shock was coming face-to-face with Earth-2 Caitlin (Danielle Panabaker) and Ronnie (Robbie Amell)—AKA villains Killer Frost and Deathstorm. Unfortunately for Barry, they weren't even his biggest problem; that came in the form of Reverb, the Earth-2 version of Cisco (Carlos Valdes), who was also a villain. Even though Earth-1 Cisco was still coming to grips with his powers, his confrontation with Reverb made him realize that he still had much to learn.
When an angry Zoom eventually crashed the Earth-1/Earth-2 reunion, he punished his minions for not bringing Barry to him immediately by killing Deathstorm and Reverb—and keeping a heartbroken Killer Frost alive. But while Earth-1 Cisco remained unharmed, he found himself facing a new obstacle: Barry's kidnapping by Zoom, and the very limited amount of time left to find him and return to Earth-1.
To unpack everything that happened in the episode, The Flash writers Aaron and Todd Helbing spoke with reporters about the Earth-2 twists and the impact to come. Here is everything that we learned.
Barry hasn't lost his speed force (for now).

The hour ended with Barry locked up in Zoom's lair, just a few feet away from Wells' daughter, Jesse (Violett Beane)—whom Harrison has been desperate to save, and the reason why the group trekked to Earth-2—but no permanent damage has happened to Barry's speed…yet. "[Zoom's] big plan is to take his speed," Todd says. "Now that he has [Barry], he has, let's say, 50 percent of what he needs." Adds Aaron, "We've established earlier in the season he needed other aspects or other people to help that process."
One good thing about Barry being stuck in Zoom's prison is, he'll get to know Jesse better. "You'll see in the next episode how this relationship starts and forms and where it leads them to," Todd Helbing teases. As for their other mysterious company, the man in the mask? "He's there for a reason," Todd teases. And, viewers can also count on getting a bit more insight into Zoom. "It starts to unravel," Todd Helbing says. "You'll see what's really going on [in the upcoming arc]."
Cisco will continue processing the magnitude of his powers.
Cisco was dealt a double whammy—the knowledge that he's much more powerful than he thought and his Earth-2 counterpart is evil­—but the impact on him will continue long after the team (hopefully) makes their way back to Earth-1. "Once Cisco saw the magnitude of the powers he was capable of, anything's possible now," Aaron says. "We may explore that." Explains Todd, "All these experiences and everybody—Cisco and Barry—meeting these doppelgängers, a lot of that information they now have. They're able to bring that back, if they get back."
In the meantime, Cisco is more focused on saving Barry. "Cisco and Wells are trying to come up with a plan of how to get Barry out of this predicament," Todd says. "They seek out help from somebody you would never expect. And they do their best to set up the rescue mission."
Earth-2 Barry will have his time to shine as a hero, too.
Earth-2 Barry spent most of the episode drugged and out of the picture, but next week's hour will showcase him. "He's quite a bit different than Earth-1 Barry," Todd reveals. "You meet him in one spot in the beginning of the episode, and then he has his own journey to become something bigger than he is. Ultimately, yes, I would call him a hero."
And with Earth-2 Barry sustaining much of the life Earth-1 Barry always wanted, the latter will be changed by his time pretending to be his doppelgänger. "It affects him quite a bit," Todd says. "The relationship with Iris, it sits with him. That's going to be on his mind…in upcoming episodes." This is not a surprise, since "Barry's been in love with this woman his whole life," Todd continues. "I can only imagine what that would be like, to go to a different reality and find out you're married to them; it actually exists."
The fun Easter eggs are just fun nods, nothing more.
Going to Earth-2 also allowed the writers to include many winks to the audience. "I think we had a giant board of 50 ideas and we had to whittle them down to the bare bones," Aaron shares. "You try and make it organic as much as you can," Todd adds.
One of the fun nods was showcasing Martin's singing abilities, by making Joe a singer on Earth-2. "We saw Grant sing last year and Danielle," Todd Helbing says. "Our cast is all extremely talented. Every time we see them do stuff like this, it blows our minds. But I think [with] Jesse, it felt the most organic to play with the doppelgänger aspect. That felt the best way to introduce the ability he has."
And astute viewers may have recognized a few familiar names on Barry's phone speed dial: Hal (AKA Green Lantern), Diana (AKA Wonder Woman), and Bruce (AKA Batman). Not to mention Eddie [Thawne], who is deceased on Earth 1. Even though Earth 2 Barry is not a superhero, the names don't mean he's secretly tapped into their world. Instead, he writers shared, they were "just Easter eggs" for loyal fans.
The Flash airs Tuesdays at 8/7c on The CW
Powered by