'Last Man' Still Standing, 'Cool Kids,' Amazon's 'King Lear'
All your Friday must-see TV!
Last Man Standing (8/7c, Fox): "The TV business can be a heartless bastard," quips Vanessa Baxter (Nancy Travis), one of many well-earned meta jokes nodding at the rebirth of Tim Allen's family sitcom, a full year after ABC canceled the show following its sixth season. While never the blockbuster crowd-pleaser of his breakthrough sitcom Home Improvement, there's warm acknowledgement in the season premiere that opposites can exist under one roof, whether the differences be gender or political. The most provocative storyline involves liberal-minded son-in-law Ryan (Jordan Masterson) setting Mike (Allen) and Vanessa on edge with his plan to escape the madness of our polarized times. In a more traditional sitcom-worthy running gag, the family reacts to the new actress (Molly McCook) playing vacuous middle daughter Mandy.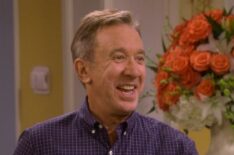 See Also
Plus, what's next for the Baxters.
The Cool Kids (8:30/7:30c, Fox): With apologies to Dorothy, Blanche and Rose, meet the Golden Geezers: curmudgeonly Hank (David Alan Grier), funky ex-hippie Charlie (Martin Mull) and flamboyant gay gnome Sid (Leslie Jordan), all settled peacefully if crankily into their retirement community. Disrupting the guys' routine is saucy, brassy Margaret (Vicki Lawrence), a newbie whose lust for life may rattle their composure, but ensures the twilight years won't be boring. These are terrific performers who could use fresher material than they get in the first episode. Still, it's cool having them all back on TV, especially Lawrence, who seems more vibrant than in all those years when she donned Mama's wig.
See Also
Plus, what it was like working with creator Charlie Day and will Burnett do a guest spot on her new Fox comedy?
King Lear (streaming on Amazon Prime Video): Shakespeare's classics can take so many shapes and forms. Glenda Jackson will bring her celebrated take on the tragic monarch to Broadway later this season, and in director Richard Eyre's compact new adaptation, which clocks in at under two hours, Anthony Hopkins plays the ailing leader in a contemporary setting. The stellar cast includes Emma Thompson and Emily Watson as his treacherous daughters, Goneril and Regan, with Florence Pugh (AMC's upcoming The Little Drummer Girl) as loyal, maligned Cordelia and Jim Broadbent as the Earl of Gloucester.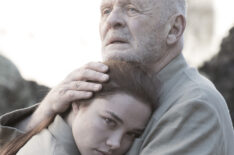 See Also
The TV film is a present-day re-imagining of the classic Shakespeare tragedy.
Inside Friday TV: ABC News revisits the largest murder-suicide in American history, 40 years later, in the two-hour special Truth and Lies: Jonestown, Paradise Lost (8/7c)… The ninth-season premiere of CBS's Hawaii Five-0 (9/8c) looks back to the franchise's very beginning in a retelling of the original series' pilot episode, "Cocoon"… Also starting a ninth year: CBS's Blue Bloods (10/9c), guest-starring Lou Diamond Phillips as a drug cartel member who Danny (Donnie Wahlberg) believes is responsible for his house being torched… HBO's Real Time with Bill Maher (10/9c) has quite the lineup, with provocateur/strategist Steve Bannon as the top-of-show interview guest, and astrophysicist Neal deGrasse Tyson appearing mid-show… HBO's Emmy-nominated Tracey Ullman's Show (midnight/11c) is back with six new episodes, featuring the versatile comedienne in provocative impersonations of German Chancellor Angela Merkel, British Prime Minister Theresa May, French first lady Brigitte Macron, Duchess of Cornwall, Camilla Parker Bowles and Jerry Hall-Murdoch.