'Young & the Restless' Star Jason Thompson Previews Billy's Gambling Intervention
Billy's gambling has gotten out of control and now his loved ones are going to do something about it!
Watch for an intervention to start on Monday, September 24, on The Young and the Restless as the Abbotts confront Billy over his gambling and how it is hurting him, Jabot, and everyone around him.
Read on as Billy's portrayer, Jason Thompson, gives a preview!
Does Billy know how much trouble he's in with his gambling?
Jason Thompson: Realistically, he's in over his head, but he believes he can pull it off and pay back Jabot [the money he took] and keep his gambling going. He thinks he's in a little more control than the reality of it says. [The intervention] isn't something he's expecting whatsoever. He thinks it's between him and Phyllis (Gina Tognoni) because he's been honest with her and he's trying to keep it that way. He's trying not to let things explode, but…that's coming.
The intervention sounds like you'll be able to go head to head against everyone. Sounds like a nice position to be in as an actor?
Yes. Almost every day there's been something more [happening]. He's had a big secret and then little things would get out. Whenever you've got something going on like the borrowing money from Jabot, there's always a lot to play. There's a relationship you're playing. There's a lie. And when you get into that Abbott living room with that group of people — Eileen [Davidson, Ashley], Peter [Bergman, Jack], Beth [Maitland, Traci], Amelia [Heinle, Victoria], Michael [Mealor, Kyle], Melissa [Ordway, Abby], Jill [Jess Walton], and Gina, you're working with a lot of people who are prepared and want to go for it. It really feeds the scene and everything that you're going through.
There's not a moment that I was in throughout those scenes that all those people weren't in it there with me. That is a gift as an actor to sit there with the material and people who understand the value of what we're doing in the moment. Those are the good days, for sure. You do your homework and you're open for how it goes. That's a fun place to play. I was comfortable with the material and the reason Billy is saying what he's saying.
See Also
The actress is taking a quick break to shoot 'Life in Pieces' on CBS.
Has Billy felt a sense of being overconfident in being a blood Abbott so he's the only one who can run the company via the "blood Abbott" clause, given that Traci traditionally has stayed out of the family business?
I think there's confidence in that. He's clear in that he knows realistically what could happen. Traci could take over and get rid of the blood Abbott clause. But Billy feels he's in control. That's where his confidence comes. I keep going back to — even though he can be a devious dude, Billy's pretty honest about things the majority of the time.
He came clean about losing the money. He came clean about the gambling. He's a pretty honest guy. That fueled me to sit there because I could look around the room and say in my own mind, 'You're lying about this, you're lying about that. And you're going to tell me that I'm out of control? Screw you all, I'm fine. Leave me alone.' It gave me confidence to take it on. Those kind of moments [are great]. In reality, Billy is losing control. He's not in control of what's going on. This addiction has taken over. It was written fantastically. When you do your homework about addiction, it's like people think they have it control. Clearly, they don't. It's fun to be able to play all that stuff.
Is Billy surprised that some more than others are ganging up on him?
Yes. Traci is supposed to be off doing her book tour. He gets a call from her and tells him to come to the house. When Traci calls about a family emergency you go. If anyone else had called, Billy would have gotten tuned in to what's going on. When Billy walks in, he realizes something else is going on. He sits down to listen, but it escalates quickly.
See Also
Victor Newman won't be showing up on the CBS daytime soap...
Katherine (the late Jeanne Cooper) and Jill both have had drinking problems. Kay could never touch a single drink. Jill, on occasion, feels, true or not, she can and then cut herself off. Phyllis may have thought Billy can gamble a little, but now she may be changing her mind?
Billy thought he could control it. It's not about chance, he feels. It's about skill. Billy feels there's an amount he can lose and walk way, but as with most addictions and most people you can't do that. It's either all or nothing. Gambling is that for Billy.
Does Billy become open to the fact that his loved ones want what's best for him and that this is more than a power play for the company?
Not right away. He's not seeing clearly yet. He's still got his blinders on with his life at this moment. As much as Phyllis is trying her hardest, she is scared for him. The more honest she gets about it with Jack, the more people start to get worried about him. Billy's been in this position and they've almost lost him before. They don't want to go through that again. As far as Billy sitting here, he's pushing against it — until it goes further.
Young and the Restless, weekdays, CBS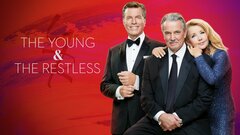 Powered by