Urge to 'Purge'? USA Network Launches a (Totally Messed-Up) Home Shopping Channel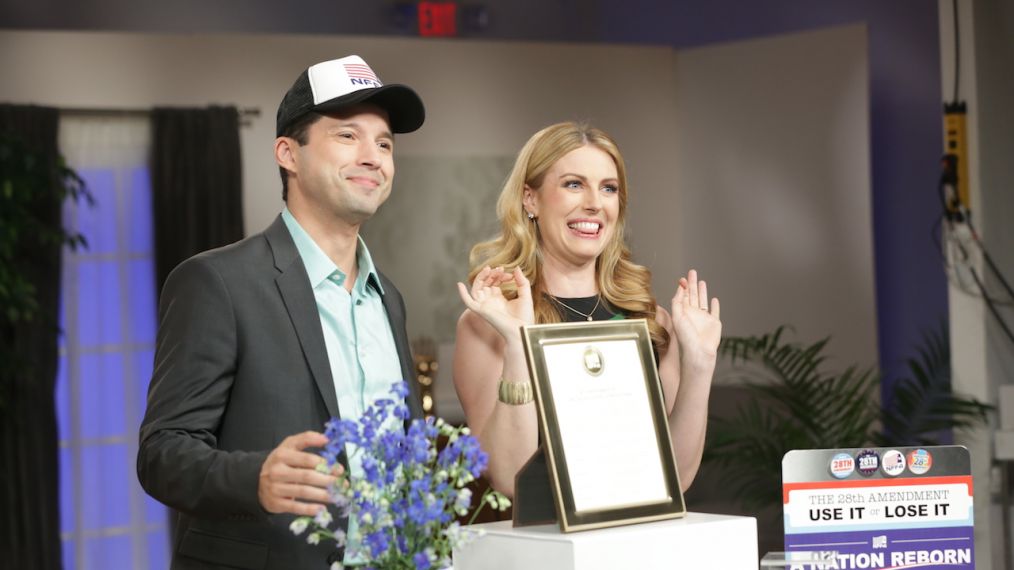 You know, it takes a lot to decorate a Nation reborn.
In advance of its eerie-as-hell 10-part adaptation of The Purge, USA is launching the satirical (but still deeply unsettling) Purge Shopping Channel. Think of it as a horror movie HSN where you can order all of your Purge Night party supplies and/or survival gear. The New Founding Fathers must be so proud. God knows the guy in the pic below isn't totally jazzed.
Beginning Saturday, September 1 at 10:45/9:45c on USA's sister network, Syfy, the faux site's on-air promotions will kick off during a 15-minute infomercial featuring hosts Carson Cruz and Rachel Stamp. The two will be hawking the PSC's 12-hour safety candles and other wares for those planning to hunker down during the one night a year when all crime is legal.
In addition, the wrongfully upbeat pair is also pushing goodies necessary for a successful night of fulfilling one's 28th Amendment right to torment mankind until the sun comes up. His-and-hers body armor? They've got it! Purge-Away Stain Remover? Stock up now!
Seven segments in total will be available, with giveaways being offered during The Purge's series premiere on Tuesday, September 4. Fans who hit the "Purge City" activation at Comic-Con International in San Diego will undoubtably recognize the dead-eyed optimism of these shorts, which play on the idea that even the most demented of holiday deserves to be fun for all… who survive it.
The Purge, Series Premiere, Tuesday, September 4, 10/9c, USA and Syfy