Could Norman Reedus Be the Next to Leave 'The Walking Dead'?
Fans have had some time to adjust to the idea of Andrew Lincoln leaving The Walking Dead, but could another heartbreak be on the horizon?
According to star Norman Reedus, aka Daryl Dixon on the AMC hit, he and Lincoln made a pact that they'd leave the show together.
See Also
Plus, Negan's vulnerable side and Danai teases more 'Richonne' moments!
"We made a pact," Reedus said during an interview on Entertainment Weekly's Sirius XM radio show. "I think it was like Season 3 or 4. We're like, 'If you leave, I leave. Right?' And that was the thing."
Of course, this certainly sounds like news. Even Lincoln perked up upon hearing Reedus's statement, asking, "Are you leaving? Is this an announcement? Is this breaking news?"
Thankfully for fans, Reedus quickly denied his exit. "Oh, hell no," he said quickly.
However, he did admit that he's very upset over his friend's Season 9 departure. "He was the first person I saw in the morning. As soon as we wrapped, he immediately called me in the car. We speak all the time. We spent every lunch break in my trailer. We shared a trailer for forever," he added.
See Also
Plus, scoop on the new faces joining in Season 9 and what's the deal with that time jump?
It's certainly comforting to hear Reedus won't be leaving anytime soon, because the loss of both Rick and Daryl would be too much for fans to bear. Lincoln confirmed his departure from the show during The Walking Dead's Comic-Con panel in San Diego last weekend.
The actor has been with the show since the premiere, and his exit has whittled down the original cast even more as Reedus and Melissa McBride who plays Carol are the only two remaining from Season 1.
The Walking Dead, Season 9 Premiere, Sunday, October 7, 9/8c, AMC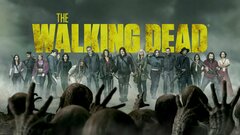 Powered by