'Seatbelt Psychic' Thomas John Gives Unsuspecting Passengers the Ride of Their Lives
It's one thing to get in a ride-share car with a stranger, but when the driver happens to be a medium who delivers a message from one of your dearly departed — oh, and then tells you you're on TV — it's definitely going to be an interesting day.
Having dual titles as both a psychic and a medium, Thomas John shares his talents in the new Lifetime half-hour series Seatbelt Psychic. No stranger to the entertainment industry, John's long been driving headlines in magazines and on TV talk with his accurate psychic predictions on world events and celebrities (his website credits him with predicting the death of Whitney Houston, the splitting of Tom Cruise and Katie Holmes, and the death of Michael Jackson).
See Also
Henry talks to us about connecting Michael Jackson and La Toya Jackson in a 'really sweet' reading he did for Season 3.
Born and raised in Boston, John graduated from the University of Chicago with a degree in Psychology and Human Development, before deciding to further develop his abilities as an intuitive and pursue metaphysical studies in New York City.
Now he's behind the wheel and offers us some insight on his newest journey.
Can you help us understand the format of the show a bit more?
Thomas John: I am an undercover ride-share driver. When passengers get into the car, they think they are being picked up by a new ride-share program. Then I share with them that I am a psychic and medium, and I ask them if they would like a reading. There are multiple cameras in the car and, to their surprise, they realize that they are being filmed during the reading. This format allows me to reach all sorts of people with my gift — skeptics, believers and people who would never even think about a medium. … You will see a lot of people surprised to learn I am a psychic, but I always ask first if they are OK receiving a reading.
There have been a lot of TV mediums over the years, and you have long been connected to celebrities and in the field. What felt right to you for this format and at this point in your career?
It has always been about the healing work for me. I've never been interested in doing a show that exploits the work or focuses on me exclusively as the medium. The great thing about Seatbelt Psychic is that it really features the readings and the stories of people getting into the car, and the healing they experience. To me, that's the most important.
I know your connections with spirits are completely random and you have no idea who you will be sharing a ride with. Could you share a story or two about some of the riders in your car and who (spirit-wise) greeted them?
There are so many great rides that we had, I don't know if I can pick just one or two stories. There was a story about a man who connected with his late son and got a very healing message from his son. For him, the healing was really about hearing that his son wants him to continue to celebrate his life, and not focus on his death. You could feel this man really experienced a healing in the car — he was a totally different person stepping out of the car.
See Also
The special presentation premieres June 18 on Lifetime.
I watched an interview with you where you explained how you first realized your gift at age 4, when your grandfather — who you never met — started visiting you. When you explained what was happening to you to your parents, how did they initially react?
When I was 4 years old, my deceased paternal grandfather visited me. He told me specific things there was no way I could possibly know. When I shared this with my parents, they at first laughed it off. Over time, the stuff he told me was too uncanny, and they came to believe I was in touch with my grandfather. They weren't really supportive about it, and so I became really scared and just ignored it. It wasn't really until my early 20s that I started to focus on developing my abilities and doing readings.
You've explained that you can feel, hear and see spirits when they appear. What's the level of detail you can see? What do they look like?
It really is unique to every spirit. Spirits communicate through smells, senses, images, feelings, thoughts. It's however they feel that I can get a message in the best way for the person I am with. I sometimes see faces, I see images that are significant to them, I hear a word or a name. Basically, the spirit uses my senses to communicate to the person I am reading for. It's a lot going on at once, especially when I am driving!
Seatbelt Psychic, Series Premiere, Wednesday, July 11, 10/9c, Lifetime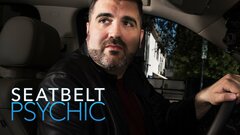 Powered by