'Caribbean Pirate Treasure': Philippe and Ashlan Cousteau Reveal How They Hunt for Artifacts
Finding fortune is all in the family for married maritime adventurers Philippe and Ashlan Cousteau, who carry on the tradition of three generations of undersea trailblazers that began with Philippe's famous grandfather, Jacques Cousteau.
"He pioneered underwater archeology," Philippe says. "Searching for pirate treasure is part of his legacy." This season on Caribbean Pirate Treasure, the duo explore Ecuador, Bermuda, Puerto Rico, Florida and more, searching for wrecks and then analyzing the bounty.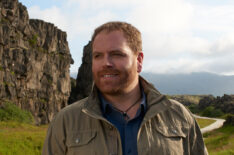 See Also
The Travel Channel show brings viewers to places unknown.
What's the biggest misconception about pirates and their shipwrecks?
Philippe: We don't find intact 18th-century wooden ships with skeletons in the rigging. The Caribbean teredo worm eats wood, so only metal remains: silver, gold, cannons, anchors. Pirates weren't gentlemen heroes like Jack Sparrow in Pirates of the Caribbean. Most were pretty bad dudes.
In the July 18 episode, you investigate one bad dude, the pirate Gasparilla.
Ashlan: This was exciting for me. My family lived in Tampa, Florida, where the legend of Gasparilla originates. Bars, restaurants and songs are named after him—there's an annual parade! Philippe and I tried to figure out if he was real and find his treasure.
What tools do you use?
Philippe: This season we bring out the big guns: Side-scan sonar shows anomalies on the sea floor that could be wrecks. We also utilize a 300-year-old pirate treasure map carved into a lead plate.
Is the diving dangerous?
Ashlan: It's not pretty. Ships sink in places with jagged rocks and coral heads and awful tides. It's worth it when you hold an artifact [that was] untouched for 200 years.
Caribbean Pirate Treasure, Wednesdays, 10/9c, Travel Channel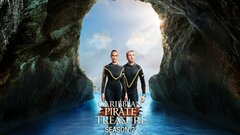 Powered by