A 'Fear The Walking Dead' Mystery: Could Madison Still Be Alive?
Her catchphrase may be "no one's gone 'till they're gone," but for the past seven episodes in the present timeline, Fear The Walking Dead's Madison Clark (Kim Dickens) has been gone.
Appearing only in flashbacks, the show seems to point fans toward the conclusion that the tough (and sharp) as nails leader — mom to Alicia (Alycia Debnam-Carey) and the late, great Nick (Frank Dillane) — is gone for good. This, paired with Dickens' ominous warning to "remain worried" about her character's fate, doesn't seem encouraging.
"I've lost everything," Madison declares in the promo for next week's episode. "I got nothing else to lose."

But will the show lose her? With Dillane's exit marking the end for Nick, it's almost unthinkable that FTWD would jettison another series veteran in Dickens' Madison.
Here are a few ways the leader of the Clark clan might have slipped through the clutches of those flaming hot walkers.
She might have survived inside the stadium
If Madison's holed up in the Dell Diamond, she's probably in pretty rough shape. That said, she's survived worse – if she could endure the deadly dam explosion, what's a measly horde of charred walkers?
Madison has proven she's a capable fighter and a cunning, resourceful survivor on numerous occasions. Even if she's trapped, she's trapped with months of rations. As long as she's not bitten, she could have made it through from past to present, assuming she stayed on the upper levels of the stadium and away from the undead.
She could be wandering the wasteland
The promo for Sunday's "No One's Gone" may offer a few brief glimpses at Madison outside the diamond. She lays on the ground and cocks a gun, drives a car and stabs a walker in the head. Could she have escaped?
An even closer look might reveal how she manages to extract herself from the swarm of barbecued undead. In a blink-and-you'll-miss-it moment, Madison appears to be barricading a door and holding a lit flare. She might be trapping walkers inside the stadium and using a flare to direct the rest away from her.
She might be living in John Dorie's house
This theory is based more on convenience than realism, but John Dorie's (Garret Dillahunt) home would serve as a potential refuge for Madison if she broke free from the chaos at the stadium.
Random happenstance would need to guide her there, but the place was uniquely idyllic and pristine, not to mention stocked with food and water. It seemed like the type of setting the show is destined to revisit if only to destroy. And if Madison truly believes her kids are gone — as she seems to, based on her dialogue in the promo — she'll need somewhere safe to recover and mourn.
Maybe she made it to John's department store
This season's fifth episode, "Laura," is a treasure trove of potential safe havens for Madison. If she didn't make it to John Dorie's house, she could have stumbled upon the department store he rummaged through for provisions (and DVD rentals).
Naomi (Jenna Elfman) made sure to arrange some medical supplies on the shelves for those who would need them next, which is a pretty pointed piece of foreshadowing. After surviving the fall of the Dell Diamond, Madison would have acquired at least a few bruises and scrapes that need tending to — and the department store should have the things she needs.
Daniel could have saved her
Remember Daniel Salazar (Rubén Blades)? The ruthless former member of the Sombra Negra has yet to show up this season, though showrunners have confirmed he's still alive. He was last seen during the Season 3 finale, "Sleigh Ride," in which he fought The Proctors on the bridge and found Nick in the final minutes of the episode.
No matter how far he strays, fate always shoves Daniel back in the direction of the Clark family. They shared an uneasy alliance at times, but it's not unthinkable that he could return to save Madison's life. They both know survival is a team sport, and might end up traveling through Texas together in search of resources or safety.
Fear The Walking Dead, Midseason Finale, Sunday, June 10, 9/8c, AMC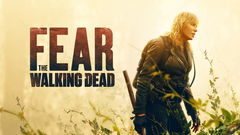 Powered by