'Instinct' Star Bojana Novakovic on Lizzie's Love Life & Her Dynamic With Dylan
Since premiering in March, Instinct has quickly joined the ranks of CBS's hit procedurals. Averaging nearly 8 million viewers a week, it even earned an early renewal for Season 2.
While the crime drama delivers on the well-worn formula of an odd couple — former CIA operative Dylan Reinhart (Alan Cumming) and NYPD homicide detective Lizzie Needham (Bojana Novakovic) — sparring their way through a case of the week, the show's greatest appeal is how it breaks ranks: Dylan is gay, Lizzie is struggling with a loss, and their investigations tend to be quirky almost to the point of camp.
(In the June 24 episode, they try to crack the Steampunk-themed murder of a film student.) Novakovic offers her POV from the precinct.
Why do you think Instinct connected with the audience right out of the gate?
Novakovic: The comedy and banter between Alan and myself — it's so rapid-fire. I think not having the usual will-they-or-won't-they sexual chemistry actually adds excitement, because it makes you think, "Then what will happen?"
How would you describe Lizzie and Dylan's friendship?
He wears his neuroses on the outside and she wears hers on the inside, so it's a great yin-yang. She's closed up emotionally, and he draws her out. I came into this going, "I'm in a drama. I'm playing a woman with a dark past who's focused on her work." It took a bit of direction to get us doing our quick, witty dialogue.
Lizzie has been mourning her late fiancé — but this week, there's a new love interest on the horizon. Is her dry spell over?
I don't think anyone's ever ready, or not ready, for a relationship, but I will say this: On the [July 1] finale, you can expect a cliffhanger in Lizzie's personal life — maybe it's romantic. And the No. 1 thing I've said to [executive producer] Michael Rauch about Season 2 is that Lizzie needs to get more action.
Important final question: How does Lizzie manage that Lady Godiva hair?
I've spoken with a few female homicide detectives, and a lot of these badass women get out of bed, put on makeup and blow-dry their hair. That's even more badass, because how do you have the time?
Instinct, Sundays, 8/7c, CBS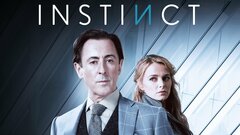 Powered by